Hoffenheim are making their debut at the Champions League qualifiers. But they couldn't have hoped for a tougher opponent than Premier League's FC Liverpool.
Hoffenheim achieved their best ever finish in Bundesliga last season under the tutelage of youngest Bundesliga coach Julian Nagelsmann. The massive rise in stake could pile pressure on the 30-year old as many would expect him to replicate last season's success.
Nagelsmann passed the first hurdle in going forward by retaining most of his key players. However, the only notable exit, Niklas Sule will be missed at the heart of the defense.
Liverpool were title contented for majority of last season. But they fell off in the last quarter of the campaign and ended up finishing fourth.
The Reds started their competitive season with a 3-3 draw against Watford. Klopp is facing a similar problem like in last season as many of his key players is out with injury. To make things worse, Philippe Coutinho is expected to leave the club real soon. With no major additions after the arrival of Mohamed Salah from Rome, the Reds could be in for a difficult season.
Despite being touted as underdogs, Hoffenheim could prove a handful for Liverpool. Last season, we saw Nagelsmann's tactical know-how torment Bayern Munich at this same venue and ended up with a priceless 2-0 win in their bags.
The Reds haven't started the season well and coming on the back of a disappointing 3-3 draw against a moderate Watford. To make things worse, they are without 8 players due to injury. Adam Lallana, Philippe Coutinho, Dejan Lovren, Nathaniel Clyne, Daniel Sturridge and Danny Ings are the prominent names who are forced to watch the match from home.
In a nutshell, this match is poised to be a clash of tactical masterclass. But, Hoffenheim could do enough to snatch a narrow victory here.
PRICE BOOST! Odds for Liverpool to WIN boosted to 2.40 till 6PM TODAY. BET NOW on www.dafabet.co.ke Hoffenheim vs Liverpool GameID 10597 (1=3.02,X=3.50,2=2.40)#TukoGame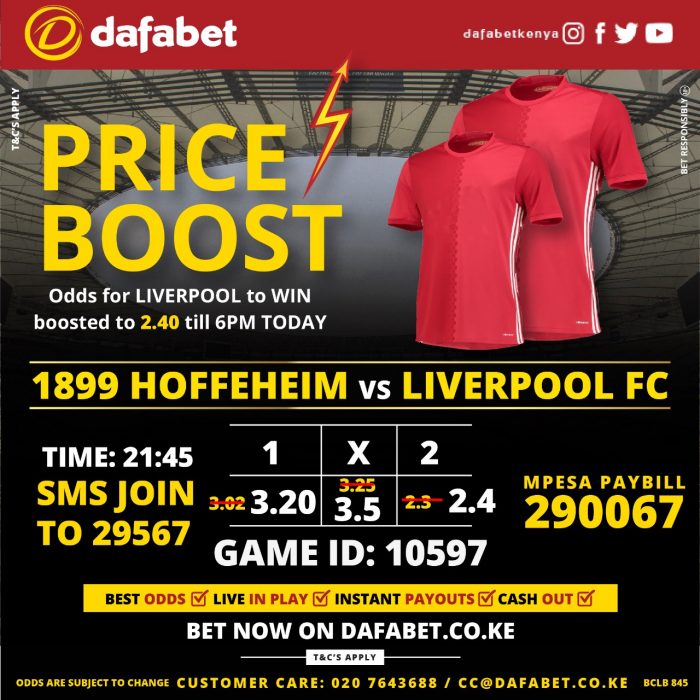 Leave a comment
comments