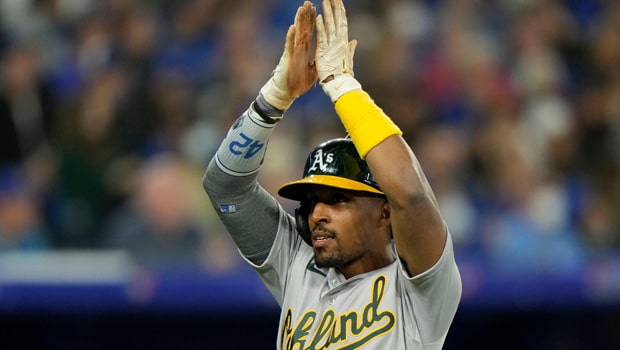 Tony Kemp of the Oakland Athletics blasted a two-run homerun Monday night as the Oakland Athletics took down a Houston Astros team, 7-5, that was on a roll. Sky Bolt added a two-run shot for Houston as pitcher Adam Oller got the win.
Although Lou Trivino closed out the game, it was Oller's first major league win. Trivino, Oakland's closer, picked up his ninth save.
"It's obviously probably in the back of some of these guys' minds when they see their name daily," Mark Kotsay, Oakland manager, said about trade rumors prior to Sunday's game against Houston. "But the main thing we talk about is, 'Let's prepare to win today and not worry about tomorrow.'"
Tony Kemp and Bolt combined for four hits, five RBIs and three runs for the A's, who won for the fourth time in their last five games.
Kemp went 2-for-3 with three RBIs and two runs, while Bolt was 2-for-3 with two RBIs for Oakland.
"I'm glad it's over," Oller, at 27 years of age, said after the win, referring to a weight being taken off his shoulders.
The Athletics put together a five-run fourth inning Monday to back to give any sort of breathing room for Oller.
"It goes back to all the stuff in between, all the ups and downs in the minor leagues, all the long hours in the offseason working to finally get to this point," Oller said.
"It goes to trusting your stuff. That's kind of been something I've dealt with in the past, not being as confident in myself, thinking I don't deserve to be there."
This was just Oakland's fourth win in their last 10 matchups against the Astros.
"The bottom of their order, 7 and 8, Bolt and Kemp, they beat us by themselves tonight," Houston manager Dusty Baker said. "We've certainly got to do better against them."
Oakland outhit the visitors 10-7.
"It's kind of something I've dealt with in the past, not being confident enough in myself and thinking I don't deserve to be there," Oller added. "But this moment really solidifies everything."
The Astros and Athletics continue their three-game regular season series on Monday, 26 July and Tuesday, 27 July.
Leave a comment