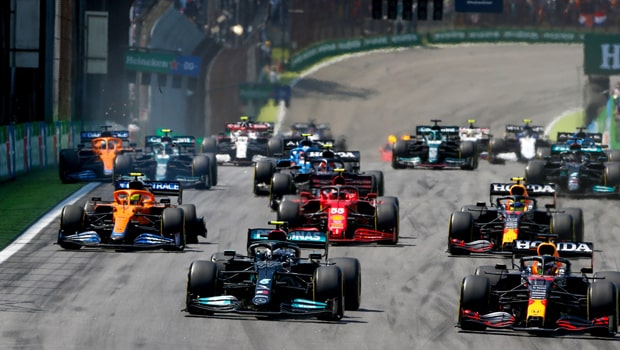 After the plan to host six sprint races this year was kicked against by some of the big teams, Formula 1 has now settled on just three sprint races for this season, like we saw last year. The idea behind sprint races, which was introduced last year, was for a short race that would hold on Saturday instead of the usual qualifying.
The sprint races last year were held at the British, Italian, and São Paulo Grands Prix. F1 had sought to continue the format this season, hoping to increase the number of sprint races to six from three, but the big teams have pushed against the idea.
According to reports, Mercedes, Red Bull, and Ferrari have asked for an increase in the budget cap, which is the money they would spend this season. The budget cap is currently set at $140 million for all 10 teams this season. The three big teams are asking for an increase of $5 million to allow the sprint to go on as planned. But the smaller teams are not in support of that idea as it would put them at a disadvantage.
The budget cap was introduced to allow all teams to compete at almost the same pace, as they would have the same amount of money to spend. This is to help save cost, as teams recover from the financial impact of COVID-19, and to level the playing field a bit.
Despite the perceived advantage or usefulness of the budget cap, it could prove to be a real problem this season, as, without an increase, F1 might have to scrap the idea of sprint races this year.
Sprint races increase the risk of crashes and damages, meaning teams would need to spend more on repairs and improvements. While F1 provided teams with a small allowance last year, that might not be able to cut it this time around as the teams want more. It did not help that F1 reduced the planned number of sprint races from six to three.
F1 needs eight teams to agree for them to move on with the plans for three sprint races, but with three teams against it, the battle for sprints to hold may be lost.
Leave a comment