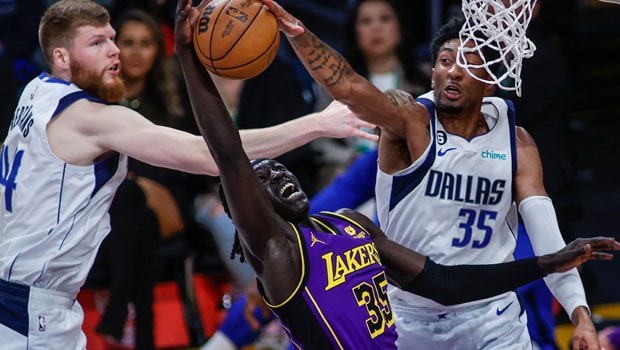 The Los Angeles Lakers are actively seeking to add another significant player to their roster, particularly a skilled big man. Among the names linked to the team is the talented former Dallas Mavericks big Christian Wood.
Known for his offensive prowess as a center, Wood possesses the ability to stretch the floor, solid rebounding skills, and some rim protection, making him a valuable asset if the Lakers decide to sign him.
However, there are some concerns regarding Wood's attitude, given his track record of playing for seven different teams in as many seasons.
Nevertheless, teams are often willing to take a chance on such talent, especially when they have championship aspirations, as the Lakers do. Nonetheless, the Lakers are facing competition in their pursuit of Wood.
According to Dan Woike of the L.A. Times, the Chicago Bulls have emerged as potential contenders to sign Wood. The Bulls received an injury exception due to Lonzo Ball's knee issue, which gives them an advantage in their pursuit.
The Lakers, limited to offering only a minimum salary to Wood, could face challenges if the player prefers a potentially more lucrative offer from the Bulls. Additionally, the Miami Heat is another team that could be in the mix as a potential suitor, especially if they acquire Damian Lillard.
Like the Lakers, the Heat would also be able to offer Wood a minimum contract but could try to entice him with a bigger role and the chance to compete for a championship.
As free agency progresses, Wood stands out as one of the few game-changers available. His impressive stats from last season, averaging 16.6 points and 7.3 rebounds, shooting 37.6 percent from beyond the arc in 25.9 minutes over 67 games, make him a highly sought-after player.
The Lakers may need to put in a considerable effort to convince Wood to join their ranks in pursuit of success with the purple and gold.
Leave a comment