CELTIC have today signed a five-year deal with Dafabet that will see them become the club's official international betting partner.
As with numerous football clubs and their supporters across the UK, overseas Celtic fans will have access to a wide variety of markets to bet on with some of the most competitive odds in the industry.
Dafabet will offer supporters a range of promotional offers and competitions with the chance to win money-can't-buy prizes – as well as the chance to attend Celtic games throughout the season.
As part of the partnership Dafabet will be offering translation services to the club to help extend their reach further into Asia.
Celtic Chief Executive Peter Lawwell said: "We are very pleased to be partnering with Dafabet. This is a major commercial deal for the club and we are sure both parties will enjoy a highly successful association over the next five years."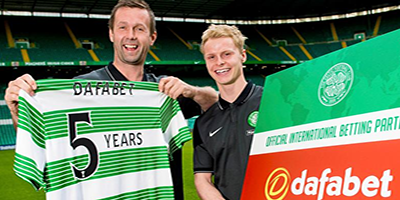 John Cruces, Head of Sports Marketing and Sponsorship at Dafabet, said: "We're absolutely delighted to be signing up with Celtic who are one of the most recognised clubs in football.
"The club's fanbase is huge, no matter where you go around the world you always see a Celtic shirt such is their worldwide support.
"It will be a proud moment to see the Dafabet brand in Celtic Park, one of the most famous stadiums with some of the most passionate fans there are in football.
"We've already seen how much work goes on behind the scenes, so we have no doubt we will form a mutually beneficial partnership".
Dimitris Karatzas, Managing Director of Online Betting and Gaming at Dafabet, said: "We had the aim to increase our presence in football from the 2015/16 season and partnering with such a prestigious club as Celtic will help us achieve that aim.
"Celtic need no introduction, such is their worldwide following, it's a proud moment to partner with a side steeped in such tradition."
Founded in 2004, Dafabet is a significant investor and operator in the online gaming industry with a proven track record offering sports book services that covers over 5,000 live events from across the world on a weekly basis as well as a wide variety of the most popular and enjoyable casino games and promotions on the web. Not yet a member? Sign up here!
Leave a comment