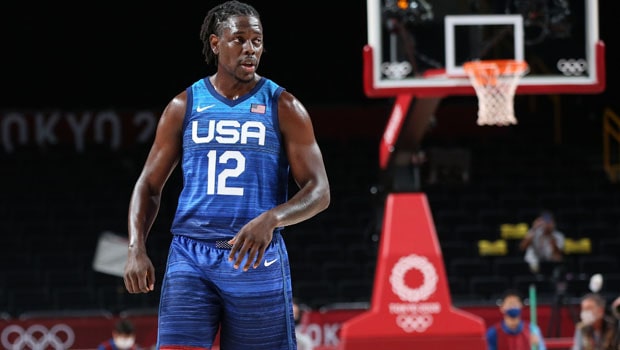 The Portland Trail Blazers traded Jrue Holiday to the Boston Celtics for Robert Williams III, Malcolm Brogdon and multiple picks. He was just acquired by the Trail Blazers in the deal that sent Damian Lillard to the Bucks.
Shams Charania of The Athletic and Stadium tweeted:
"JUST IN: The Boston Celtics are acquiring star guard Jrue Holiday from the Portland Trail Blazers for package including Malcolm Brogdon and multiple picks, sources tell
@TheAthletic @Stadium"
Holiday is an All-Star-caliber point guard who impacts winning on both ends of the court. He also has a reputation as one of the best teammates in the NBA. Last season he averaged 19.3 points, 7.4 assists and 5.1 rebounds per game while shooting 47.9 percent from the field and 38.4 percent from 3-point range.
His 3-point shooting improved late in his career, as he's made 39.5 percent of his 3-point shots over the last three years. His playmaking skills are successful because he has a drive-and-kick game and catch-and-shoot ability.
He is one of the best on-ball defenders in the league. He made first-team All-Defense last year and has made one of the two All-Defense teams in five of the last six seasons. Holiday finished eighth among guards in All-NBA voting in 2022-23, the first season in which he received genuine consideration for this honor.
At 33 years old and playing a physically taxing brand of basketball, questions arise about whether he can hold up for long. Holiday's shooting improvement does help the Celtics, and he is a high IQ player.
That said, his efficiency in the playoffs dropped over the last three seasons, as opposing teams made him beat them instead of Giannis or Khris Middleton. In the last three playoff runs, Holiday made just 39.6 percent of his attempts, including 30.5 percent from beyond the arc. The good news is that he landed with the Celtics, with Jayson Tatum, Jaylen Brown, and Kristaps Porzingis, so he will not have to create as much of his own offense regularly, especially late in the shot clock and late in games.
Leave a comment