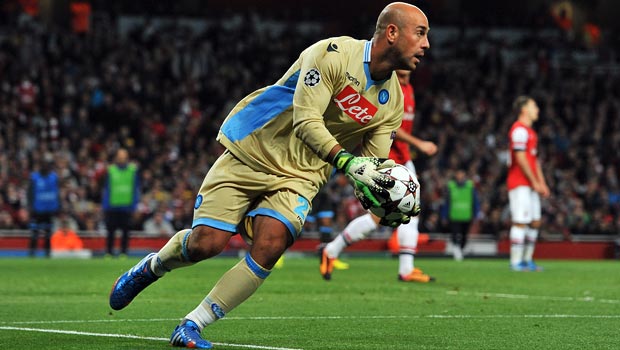 Napoli boss Rafa Benitez says he will not be signing Liverpool goalkeeper Pepe Reina on a permanent basis as his wage demands are out of the Italian's reach.
The Spanish ace is surplus to requirements at Liverpool and spent last season on loan with Napoli, where he made 40 appearances in all competitions.
Benitez would like to sign him on a permanent basis, while the player himself has also hinted he would like to stay, but a deal looks unlikely to happen because of the finances involved.
Benitez says Reina will now return to Liverpool and will have to battle with Simon Mignolet for a first-team place or move elsewhere as Napoli cannot afford him.
"Yes," Benitez said when asked if Reina will return to England. "Pepe has two years left on his contract at Liverpool.
"He has to go back and he'll stay there. We can't afford Pepe's wages.
"The Premier League is a very big league and, in Serie A, we don't pay big wages like in England. He will have to fight for his position at Liverpool."
Liverpool are known to be in the hunt for another goalkeeper so there is not much chance of Reina having a future with Brendan Rodgers' side.
Atletico Madrid and Barcelona are said to be interested and a decision will be made once Reina returns from World Cup duty with Spain.
Leave a comment