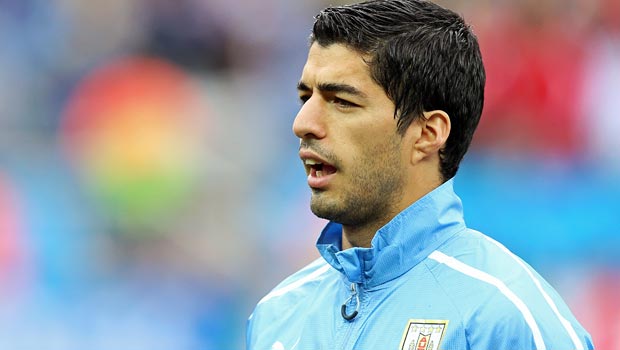 Uruguay's Football Association has appealed against Luiz Suarez's latest ban for biting, FIFA has confirmed.
The Liverpool striker was suspended from all football-related activity for four months for biting Italy's Giorgio Chiellini during the World Cup although he is allowed to move clubs.
Suarez has previous form having been sanctioned for bites in the Netherlands and England but the Uruguayan authorities have now decided to try and have his ban reduced as expected.
The 27-year-old – a big-money target for rebuilding Spanish giants Barcelona this summer – cannot play club football until the end of October, as things stand, while he must also sit out nine international games.
The player has also been fined £66,000 although that is not a problem for him as Barca will have to pay around £80million for his signature and he has not asked for the move.
Suarez took almost a week to apologise to Chiellini but his appeal might be helped by the fact the Juventus man has said he feels the ban is "excessive".
Suarez's statement read: "After several days of being home with my family, I have had the opportunity to regain my calm and reflect about the reality of what occurred during the Italy-Uruguay match on 24 June 2014.
"Independent from the fallout and the contradicting declarations that have surfaced during these past days, all of which have been without the intention of interfering with the good performance of my national team, the truth is that my colleague Gieogio Chiellini suffered the physical result of a bite in the collusion he suffered with me.
"I deeply regret what occurred. I apologise to Gieogio Chiellini and the entire football family. I vow to the public that there will never be another incident like this."
Leave a comment