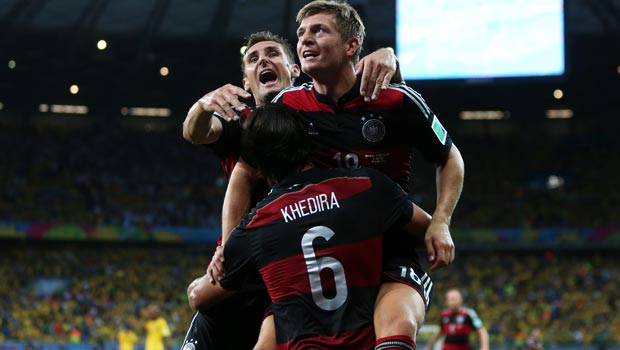 Germany makes history as they defeat Brazil at an astounding 7-1 win. The remarkable performance by Germany is by far the largest margin of defeat in the history of FIFA World Cup.
Germany manages to take advantage of Brazil's fragile defence that resulted to the top of the line win. The outstanding victory doesn't only make team Germany a legend in the sport for now; its Forward Miroslav Klose also marks his name in the history of World Cup as he made his 16th career FIFA world cup goal.
Germany will then advance to the finals and is about to face the winner of the Argentina – Netherlands match. This will be Germany's 4-time win opportunity.
Brazil went on fighting even with the absence of its key Player Neymar who is out of the tournament due to a vertebral injury. Brazil started out strong during the first half of the tournament but eventually gets weakened as the World Cup progresses. The deteriorating performance was escalated further as Neymar was out due to injury. Brazil's defence gets even weaker when Thiago Silva is out due to a suspension.
At the start of the Germany – Brazil match, all hopes are high for the Brazilian fans until Germany scores 5 on the first 30 minutes of the game. What makes it even more devastating is that 4 of which are made within 7 minutes.
This is by far the most overwhelming defeat by the Brazilians. Back in 1920, they suffered a 6-0 lost against Uruguay in the South American championship and in 1998; their first biggest World Cup downfall was 3-0 against France.
Brazil coach Luiz Felipe Scolari takes the blame for the shattering loss saying "The responsibility for this catastrophic result is mine, I was in charge."
If the match resulted to Brazil's most heart breaking loss in the history of World Cup, all tides are in favour of Germany as it is their biggest World Cup win. During the game, Bernard – who replaced Neymar as Brazli's third striker, directed the team to attack aggressively. The aggression failed as Germany quickly found its way through the defence and finally started to perform at its highest peak.
Being a true Sportsman, Brazil coach Felipe Scolari recognizes Germany's outstanding performance by saying "The German quality is very, very high… This is not normal".
Leave a comment