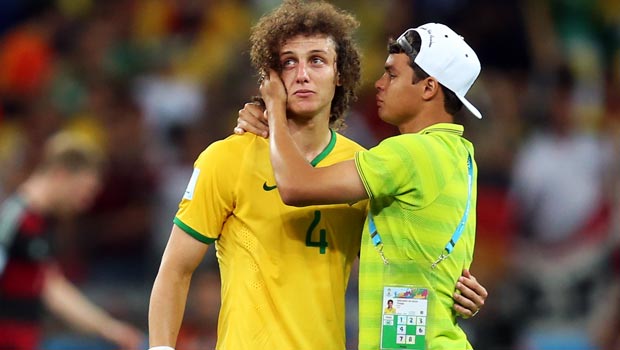 Chelsea boss Jose Mourinho believes that it is unfair to put the blame on the shoulders of David Luiz and insists the whole Brazil team was guilty of making mistakes in Tuesday's 7-1 loss to Germany.
The hosts crashed out of the tournament in dramatic circumstances in Belo Horizonte and much of the focus has landed at the feet of stand-in captain Luiz.
The PSG defender was handed the armband in the absence of Thiago Silva, who was unavailable after picking up his second yellow card of the competition in the victory over Colombia.
Brazil were also without forward Neymar, who was ruled out for up to six weeks with a broken vertebra after suffering a challenge from Juan Zuniga in the quarter-finals.
A weakened Selecao side capitulated during a six minute period, which saw the South American outfit ship four goals.
Luiz was judged to have been at fault for at least two of the goals if not more as Thomas Muller, Miroslav Klose and Sami Khedira all netted, while Toni Kroos and Andre Schurrle grabbed a brace a piece.
Mourinho, who coached Luiz last term admitted that the defender was guilty of making mistakes but believes it is harsh to single out one player.
Mourinho said: "I don't think it's fair to separate a player from the team, because the team was really bad.
"David made mistakes? Yes he did. But, Dante made mistake, Marcelo made mistakes, Fernandinho made mistakes. The team as a team made mistakes. So I don't think it's fair.
"In fifty years' time our kids will know that Brazil lost at home against Germany, one to seven. From my point of view, from the professional point of view, it's heart-breaking and I'm really sorry for them."
Leave a comment