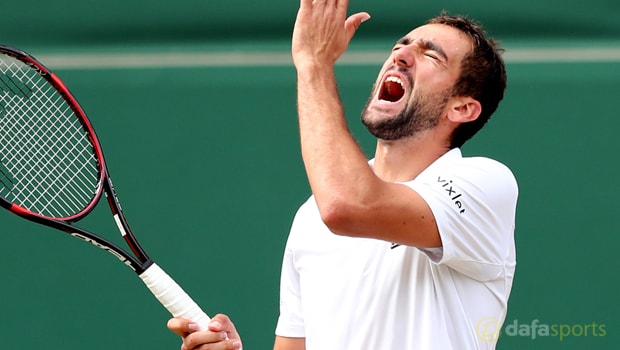 Marin Cilic has talked about the anguish he went through during his Wimbledon final defeat to Roger Federer.
Cilic finally reached the Centre Court decider at the 11th time of asking, becoming just the second Croatian to appear in the Wimbledon men's showpiece after Goran Ivanisevic.
The big occasion became something of nightmare for the 2014 US Open champion as a blister on his left foot caused him to experience extreme pain during his 6-3 6-1 6-4 loss to Federer, who recorded a record-breaking eighth Wimbledon success.
Cilic broke down in tears at 3-0 in the second set and says that was not so much owing to the pain of his injury, but rather to a feeling of frustration knowing that he was unable to perform to his best level.
"It was just a feeling that I knew that I cannot give my best on the court, that I cannot give my best game and my best tennis, especially at this stage of my career, at such a big match," he said.
"It was very, very difficult to deal with it. That was the only thing. But otherwise it didn't hurt so much that it was putting me in tears.
It was just that feeling that I wasn't able to give the best." The final lasted just one hour and 41 minutes and Cilic says the pain in his foot made it tough to focus on his game plan at times.
"For me it was actually very difficult to focus on the match, as well, as my mind was all the time blocked with the pain.
It was tough for me to focus on the tactics, on the things that I needed to do," he added.
"Also, I was just not able to set up properly on the balls. It was very, very tough to deal with it."
Cilic is 15.00 to win a second US Open crown at Flushing Meadows later this year.
Leave a comment