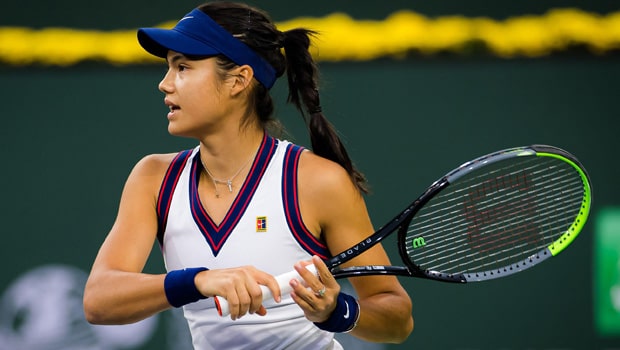 Reigning US Open champion Emma Raducanu lost in the second round against Aliaksandra Sasnovich of Belarus and bowed out of the Indian Wells. It was an awakening for the youngster who had the world at her feet with her historic US Open triumph.
However, after the loss, the Brit has come forward making a public appeal for an experienced coach. The 18-year-old was earlier coached by Andrew Richardson who played a big role in her US Open triumph. But Raducanu wanted someone with more experience and hence she decided to part ways with him.
She now wants a coach with more tour-level experience as she looks to take her game to the next level. Therefore she came to Indian Wells without a personal coach but was helped out by Lawn Tennis Association (LTA) coach Jeremy Bates. While it was just a temporary thing from both parties, Raducanu is gradually becoming desperate for her new coach.
Speaking after her loss at the BNP Paribas Open, Raducanu made a public appeal to all the experienced coaches out there as she looks to get someone on board. She made it clear that tour level experience is of prime importance to her as she looks to maximize her capabilities through someone who can guide her along the way.
"I think that I would love to have someone with great experience right now by my side so if any experienced coaches are out there looking, you know where to find me," Raducanu told the media.
"So I don't know what's going on, I don't know what's going to happen next but I'm sure my team and everyone will try and find a solution, she continued. "I wasn't joking. If anyone knows any experienced coaches."
The 18-year-old then spoke about her early exit at the Indian Wells. She feels that her inexperience has played a bigger role than her not being with a proper coach. Raducanu highlighted how she is not a player who looks up at her box during matches.
The Brit is eager to learn the nitty gritty of the game and get better with every game. She wants long term success and feels that she is only at the start of her career.
"I think that what happened tonight was just down to experience," she added. "I've got a very long future ahead of me, potentially 15, 20 years in the game. My priority is that longevity and I'm at the very start."
Leave a comment