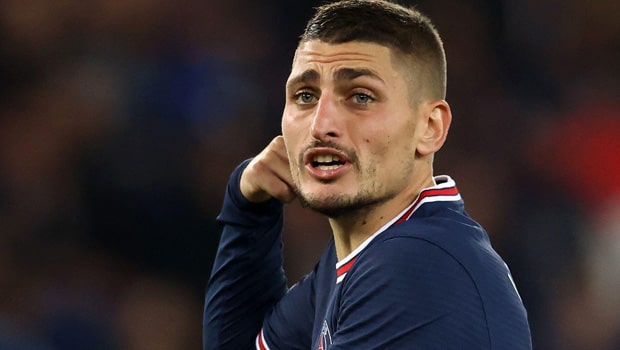 Paris Saint Germain recently came out victorious against Manchester City in the UEFA Champions League. Idrissa Gueye scored the opening goal within the first ten minutes of the game while Lionel Messi added another in the second half. After the match, Manchester City head coach Pep Guardiola appreciated the way PSG played. He then pointed out Marco Verratti's performance in midfield and lauded the Italian for his exceptional passing and control which swayed the game in favour of the Parisians.
Hearing so many compliments flattered Verratti but the Italian also revealed that he intends to finish his career at PSG.
The Italian impressed Guardiola in their 2-0 win over Manchester City. after the game the Spaniard expressed his love for Verratti as he said, "He is exceptional. Even under pressure, he manages to find those passes that allow the midfield to be free."
Verratti was elated when he heard Guardiola's praises as he considers the Spaniard as someone who gives the fans pleasure through his style of football. The Italian midfield also holds Guardiola in high accord and hence it was a big moment for him.
Speaking to France Info, he said, "These are certainly words that please me. He is a person who understands football, who is good for football and one of those who gives us pleasure with football.
"So, yes, I am happy."
Apart from Guardiola, Verratti's new teammate Lionel Messi also praised the midfielder and termed him as a 'phenomenon' in the middle of the field. Messi even admitted that he wanted the Italy international at Camp Nou while he plied his trade for FC Barcelona.
But Verratti has made one thing clear, despite Messi's desire earlier and Guardiola's applause, he sees his future in Paris. Verratti has revealed that he wants to finish his career at Paris Saint Germain despite suitors lining up for him with every top performance.
When asked about his plans the 28-year-old said, "I have a little time left. What I do know is that I will always stay here."
Lastly, Verratti who joined PSG from Pescara nine years back highlighted how Paris has become his home and how his kids are born here. Therefore he does not intends to finish his career at PSG.
Leave a comment