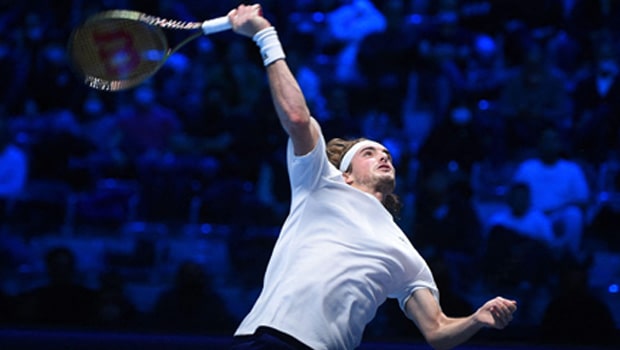 Greek Tennis sensation Stefanos Tsitsipas had a good run in 2021 as he won his first Masters 1000 title and also qualified for his first slam final at Roland Garros but could not cross the final hurdle against World no.1 Novak Djokovic. Tsitsipas stated that he wants to get even better and his goal is to definitely go even higher in the upcoming season.
The lanky player was knocked out in the first round of Wimbledon by Frances Tiafoe. Tsitsipas won two titles in 2021 and claimed third place in the ATP in August but once again dropped to fourth place by the end of the season.
In fact, Tsitsipas elbow injury impeded his progress at the fag end of the year. Tsitsipas is however confident that he will make a solid comeback after undergoing the knife.
"I am sure I will be 100% back," he told ANT1. "The goal is definitely to go even higher. I hope the preparation goes well and that the new year will be three times better than this season. "Overall I'm happy with where I stand and I think I'm going to have to take an extra step and try and aim for even higher next year," Tsitsipas added.
Tsitsipas could begin his new season at the Australian Open. The Greek had qualified for the semifinals of the previous edition of the Australian Open and had also defeated Rafael Nadal in the quarterfinal despite being two sets down.
Tsitsipas feels he will need to improve to take his game to a new level and get the best out of himself in the upcoming Australian Open.
"That will require new fresh goals and also trying to improve when it comes to becoming more professional and working to find where the 1% lies, or the five percent where I can benefit from it," he explained. "And I will of course have my team to help me get to that 5% that I'm looking for."
The Australian Open will begin on January 17.
Leave a comment