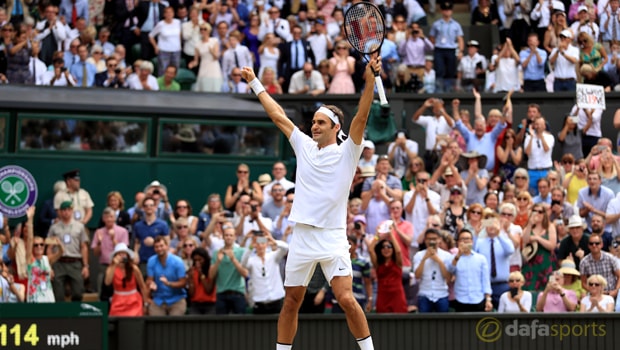 Roger Federer hopes to return to the top of the ATP rankings after claiming the Wimbledon title earlier this month.
The Swiss star has spent 302 weeks in total as the world number one and holds the record of 237 consecutive weeks at top spot, but he began the year as the world number 17 after missing the latter half of 2016 through injury.
However, after claiming the Australian Open and Wimbledon titles, the 19-time Grand Slam champion is now at three, just 1205 ranking points behind Andy Murray at the top of the pile.
Murray has struggled for form and fitness this season, as has world number four Novak Djokovic, and Federer feels a return to the top of the rankings is now a realistic goal.
The 35-year-old expects a fierce battle with old foe and world number two Rafael Nadal but is confident he can move back into the world number one spot before 2017 comes to an end.
Federer admits titles are his priority as he is well aware he has entered the twilight of his career.
But he would welcome the chance to walk out on court as the world's top player again.
"I'm playing for titles at this stage in my career; rankings not so much unless I'm as close as I am right now.
So I just have to check the situation – if it's worth it to run after it or not," he said, as reported by Tennis World USA.
"I think it's going to be a three or four-way race or two-way race between me and Rafa Nadal.
I hope it's me and not Rafa because it means a lot to me to get back to number one."
Federer is 3.25 to win the US Open as he seeks a 20th major honour which would ensure he has won every Grand Slam he has entered in 2017.
Nadal is 5.00 to land the top prize in New York while Wimbledon runner-up Marin Cilic is 15.00 to claim a second US Open crown.
Leave a comment