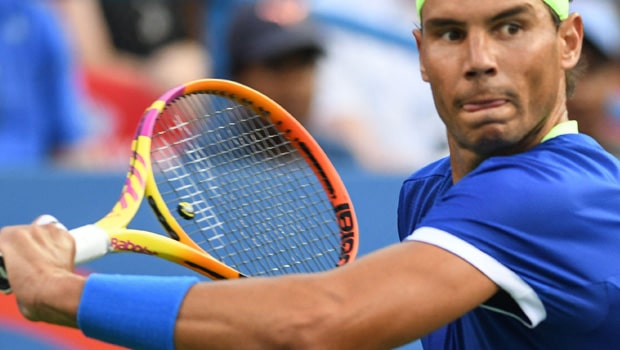 Rafael Nadal has revealed that he cannot provide any timeframe for his return. The Spaniard called time on his season in August after he was struggling with a chronic foot injury. The 20-time Grand Slam winner had been suffering from a foot injury since 2005 and unfortunately, it got resurfaced at the Roland Garros this year.
The Spanish legend has resumed training a few days ago. Hence some fans feel that the 35-year-old will be back on the court sooner than expected. But recently during a ceremony hosted by the council of Sant Llorenc des Cardessar, Nadal clear the air claiming that he has not set a timeline for his return.
The Spaniard wants to recover from his injury fully before taking any decision of returning to court.
"I want to recover from the injury to return in top condition," Rafael Nadal was quoted as saying by Heraldo. "I don't know when I'll play again, I work a lot every day, I follow a specific plan, obviously with a marked road map and very clear objectives."
The 20-time Grand Slam winner has assured his fans that he is leaving no stone unturned to come back to his best. But for now, he could not simply give further updates. Nadal is hopeful that he will be able to return at the highest level.
"I won't say what the goals are," Nadal added, "because there are things that I can't control one hundred percent, but inside my head I am clear about what my goals are and I trust that things will follow a positive course to be able to try to compete. I work a lot every day to try first, recover, and second, when I am recovered to be prepared to play again in full condition."
While the Spaniard did not undergo surgery, he revealed that he went through aggressive treatment for his foot. He is currently in the process of recovery but wants to take things slow. He needs to be very cautious in his approach right now.
"I am in a process of recovery, of work, with a progressive increase in loads and sensations are not measured daily," Rafael Nadal said. "You have to be a little cautious, look a little in the medium term."
Leave a comment