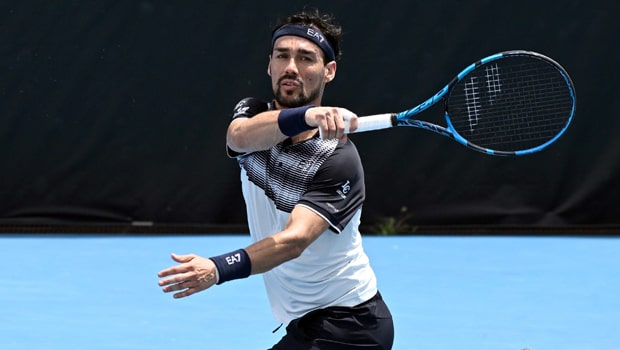 Fabio Fognini has heaped praise on Rafael Nadal for his never-give-up attitude on the court. Nadal won his 21st Grand slam title after he defeated Daniil Medvedev in the final of the Australian Open. The Spaniard was two sets down but kept believing and didn't throw in the towel to bounce back in style.
Nadal is well known to give his best on the court and he keeps running after the ball like a bull. The lefty has made a rollicking comeback after he suffered a foot injury and was also down with Covid-19. In fact, not many Tennis boffins thought Nadal will be able to go all the way in the Australian Open but he was able to once again prove his mettle.
"We are not hitters, our game is set on running and if do not do well you must work so hard," the Italian told La Gazetta dello Sport. "For a champion like him on the one hand it is easy because mentally he is really from another planet.
"After what he has been through, his result really leaves you speechless and you can't do anything but admire it. "He doesn't give up, Rafa. "You just have to knock him down. "He consumes you, physically and mentally, I'm proud to have beaten him in Monte Carlo. "Only Djokovic and Federer have managed to stop his competitive fury."
On the other hand, Fognini revealed that he is a big Federer fan. Federer has a huge fan following and he is well known for his flamboyant shots on the court.
"They are unrepeatable phenomena in the history of tennis. "Don't hold it against me Rafa (Nadal) and Nole (Djokovic), but I was born and I remain a 'Federiano'. "If I have to buy a ticket, I buy it to see Roger."
Meanwhile, Fognini had defeated Rafael Nadal in the Monte Carlo event in 2019 and he was able to go all the way.
Leave a comment