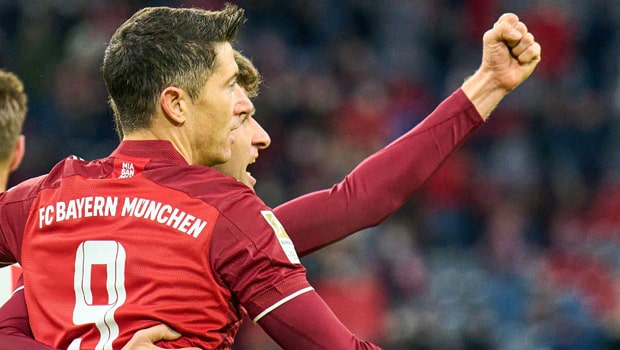 Bayern Munich striker Robert Lewandowski has come to the conclusion that his Best FIFA player award does matter more than the Ballon d'Or. There is no doubt that Ballon d'Or is more prestigious than the Best FIFA award. Lewandowski finished behind Lionel Messi for the Ballon d'Or but he was awarded the Best FIFA Men's player award.
Lewandowski was in fine form in 2021 as he did a fine job for Bayern Munich and Poland. In fact, many of the football boffins reckon Lewandowski should have been awarded the Ballon d'Or in 2021 but the prestigious award was given to Lionel Messi.
"I've been thinking about these two awards lately: The Best FIFA Men's Player Award and the Ballon d'Or," Lewandowski said while talking to Polish publication Pilka Nozna. "I have come to the conclusion that the FIFA award does matter more than the Ballon d'Or. "Only journalists vote in the latter. There is no clear verification, as many experts or former and currently playing footballers have said.
"Professionals and journalists vote for the FIFA [award]. Team captains and national team coaches, and they can realistically and objectively evaluate our achievements because they know how much each match, each record, each injury costs us.
"Maybe in the prestige ranking, the Ballon d'Or is positioned higher than the Best FIFA Men's Player Award, but it makes me proud being aware that I have received the world's best footballer award for the second time in a row after being voted by coaches and players, because I know how hard I have worked for many years."
Meanwhile, Robert Lewandowski has thus far scored 23 goals in the ongoing season and he is currently the leading goal-scorer in the Bundesliga. In fact, he has also scored nine goals in the Champions League.
On the other hand, Lewandowski added that he doesn't know why Lionel Messi didn't vote for him for the Best FIFA Men's player of the year award.
"It is difficult for me to relate to it," Lewandowski added. "I voted for Messi because I appreciate what he did in 2021 and, of course, earlier. Messi voted for me in the Ballon d'Or, and I don't know why his point of view changed later. "However, I have no regrets, no complaints, I accepted it, he made his decision and that's it."
Leave a comment