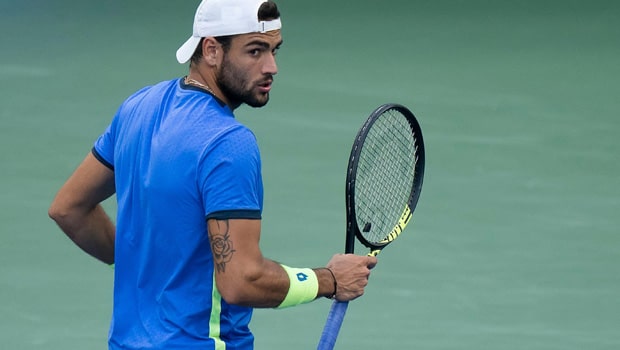 Italy's Tennis sensation Matteo Berrettini has rated Novak Djokovic as an incredible mover on all surfaces. Djokovic is regarded as one of the best players across all the surfaces and he is a complete player. The Serbian records speak for himself as he is a player for all surfaces and has won nine Australian Open, two French Open, six Wimbledon, and three US Open titles.
In fact, Djokovic is one of the fittest players in the world and his flexibility is second to none. Djokovic is known for his sliding abilities and he is often likened to Spiderman on social media platforms whenever he comes up with some incredible shots.
"I would say either Novak or Daniil Medvedev (are like a backboard)," Berrettini said. "It always takes something extra to win a point against those two. The ball keeps coming back from all corners of the court."
"There are a lot of great athletes, but I would need to say, Novak (when asked to name the best mover)," added the Italian. "Incredible mover on all the surfaces."
The Italian added that the pressure to perform at the top level is tough to handle for some players whereas legends like Djokovic and Serena Williams always thrive under pressure and they are always able to get the best out of themselves.
"For me, media and being in the spotlight are something that comes with the career choice," Berrettini said. "Some players like the hype and pressure and perform better with it, whereas others prefer to go under the radar more."
"Even without the media, players would still feel the pressure," continued the Italian. "They have trained their whole lives to win trophies, achieve personal goals, and break and set incredible records when it comes to Serena and Novak."
"So they also put pressure on themselves. They know how significant their achievements are and potentially how important they could be to whatever they are trying to achieve."
Berrettini and Djokovic had taken on one another in the Wimbledon final in which the Serbian was able to come up on top. Both of these players are now expected to take part in the Nitto ATP Finals, which will be played in Turin from November 14 to November 21.
Leave a comment