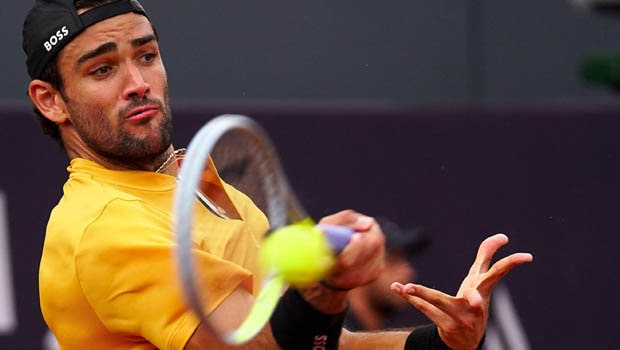 Renowned Tennis coach Patrick Mouratoglou has rated Italy's Matteo Berrettini's backhand as weak. Mouratoglou heaped praise on the Italian for his never-give-up attitude on the court but feels he needs to work on his backhand. Berrettini has been consistent in the last couple of seasons and he has taken giant strides at the top level.
The 25-year old had qualified for the final of Wimbledon in 2021 but could not cross the final hurdle against Novak Djokovic. The Italian also made it to the semifinal of the Australian Open 2022 but he was beaten by eventual winner Rafael Nadal in four sets.
"First, Matteo Berrettini is an incredible fighter and competitor," the Frenchman explained on his YouTube channel. "He refuses to lose.
"Watching [him play] I think 'wow, tennis-wise there are guys who play the same [level] but they don't have that. "If you look at the top guys, they all have that. "Zverev, Medvedev, Tsitsipas, Berrettini, they refuse to lose. "The fighting spirit and their belief in the ability to win even in the most difficult situations is at the top. "And that's why they are where they are."
Berrettini ticks the right boxes as a player as he has potent serve and forehand but his backhand has been his kryptonite, which his opponents have exposed in the past.
"But, we also have to say that he's the only top guy who has a huge weakness," Mouratoglou added. "His backhand is very weak. "In the big matches against the best players it's a big disadvantage."
"He plays smart, [playing his backhand] to get a forehand on the next shot. "And he has mastered the slice backhand. "I put him in the same group as Medvedev, Zverev and Tsitsipas, because he is very consistent at the highest level, because of his ranking, and because he is a Grand Slam finalist. "On the other hand, for me he is a bit under them because he has a big weakness."
Berrettini has been performing consistently and he would like to work on his weakness to keep climbing up in the rankings.
Leave a comment