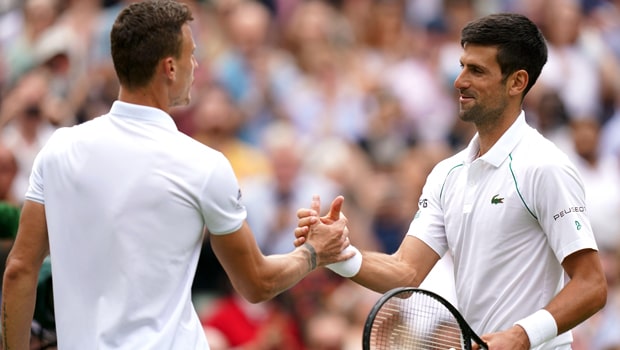 Hungarian Tennis player Marton Fucsovics reckons the World no.1 Novak Djokovic doesn't have the right to be able to defend his title in the upcoming Australian Open. It was already laid down that every player should be vaccinated to take part in the Australian Open but the Serbian decided to carry a medical exemption to take part in the tournament, which was the other route to participate in the tournament.
However, Djokovic was detained at the arrival as the Australian Border Force revealed that he was not carrying all the evidence. Djokovic then went on to win his visa cancellation case against the Australian government, which might allow him to take part in the tournament.
Djokovic had earlier refused to reveal his vaccination status but recently disclosed that he isn't vaccinated. As per the reports, Djokovic was tested positive for Covid-19 on December 16 but still went on to attend many events despite not returning a negative test.
"Djokovic is the greatest tennis player in the sport, winning everything, he has won nine times here in Melbourne as well, so he deserves to be here and start," said Fucsovics on M4Sport.
"However, we must not go beyond what is happening in the world now. People's health is paramount, and there are rules that were outlined months ago, namely that everyone should vaccinate themselves, and Djokovic didn't. From this point of view, I don't think he has the right to be here," added the Hungarian player.
Fucsovics added that the Tennis community and pundits were not impressed after Djokovic was given a medical exemption to take part in the Happy Slam.
"There was a rather negative reception among members of the tennis community that the Serbian world No. 1 could be there in Australia and was granted an exemption because they did not feel it was fair," concluded the 29-year-old.
The Australian Open will begin on January 17.
Leave a comment