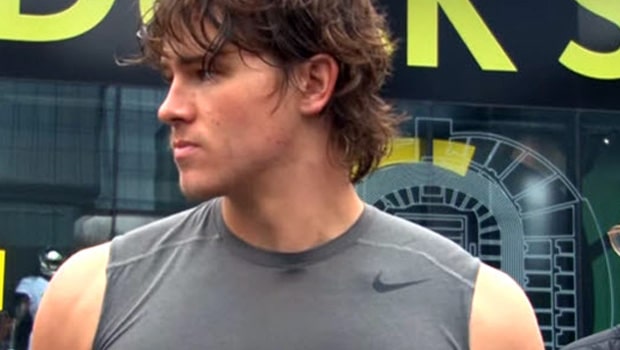 The Chargers selected former Oregon quarterback Justin Herbert with the sixth pick in the 2020 NFL Draft in order to replace Philip Rivers, their longtime starter under center who signed with the Colts in free agency.
"There's no pressure on Justin to walk in on Day 1," Chargers general manager Tom Telesco told Dylan Mickanen of NBC Sports Northwest. "We're not asking him to come in here and carry the football whatsoever. Just asking him to come in, start competing, start learning and we'll take it from there."
Herbert took over at quarterback in the Week 2 home game against the Chiefs because a Chargers team doctor accidentally punctured Tyrod Taylor's lung while trying to administer a pain-killing injection to his cracked ribs. Herbert almost led the Chargers to an upset win against the Chiefs.
A video released by NFL Films and with Mahomes wearing a microphone, showed the two signal-callers sharing a moment during the postgame handshakes on the field.
"Hey man, way to play man. Going to play for a long time," Mahomes told Herbert when he found the rookie quarterback on the field after the game.
Mahomes, who has already won a Super Bowl, also offered some advice to Herbert, "Just stay away from those big hits. I learned early, you gotta stay away from them."
The two quarterbacks threw for 300+ yards in Kansas City's 23-20 overtime win. The Chiefs won with a 58-yard field goal. Herbert completed 22 of 33 passes for 311 yards with one touchdown and one interception. He also ran for 18 yards and one touchdown on four carries.
Leave a comment