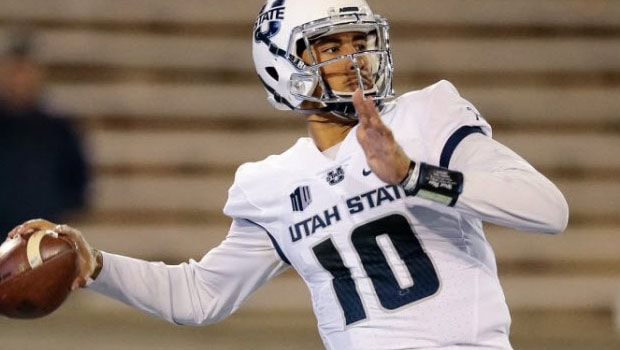 The Green Bay Packers surprised everyone by taking former Utah State quarterback Jordan Love with the No. 26 pick in the 2020 NFL Draft. This caused many around the NFL to scratch their heads because it disrespects Aaron Rodgers and the team could have used that selection on an offensive weapon to help Rodgers lead them to another Super Bowl.
A few days after the draft an NFL executive claimed that the Packers believe Jordan Love is the next Patrick Mahomes.
The Packers were thought to be prioritizing offensive help for Rodgers but their decision to draft Love tells us that they are planning for life after Rodgers retires, especially because they took Love in the first round.
Can Love live up to the hype? Before the draft many scouts were impressed with Love's incredible arm at Utah State. During his time there he proved that he can excel when forced to improvise plays, much like what Patrick Mahomes has done since joining the Chiefs.
Comparing Love to the best quarterback in the league today might be too much, too early. If the Packers truly believe that then I can understand why they chose not to pass on Love. They even traded up in the first round to make sure they would not miss Love.
While he has a cannon for an arm, Love has to improve his decision-making before becoming a starter in the NFL. The good news for him and the Packers is that for now Rodgers will still be there and start under center, giving Love time to develop. Whether Rodgers will help Love or not is a completely different topic.
Love can still develop under Rodgers and if he comes even close to Mahomes' level then the team would be proven right.
Leave a comment