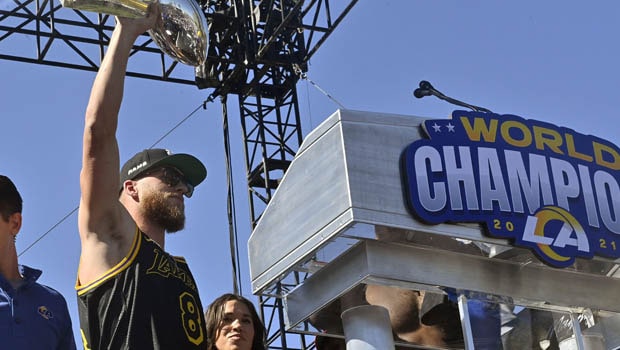 Kobe Bryant's influence runs deeper than basketball. Look at Cooper Kupp. His route was so organic. No shortcuts. Straight work. Kupp dropped the truth at the Rams' Championship parade:
"We're out here celebrating this championship. Kobe is a part of this. He belongs here. He set the standard. All I know, get back to work, let's run it back."
Kupp had:
Zero stars.
One offer.
Not even a photo in his recruiting profile.
Cooper Kupp's career started from an empty recruiting profile.
This year, he led the NFL in catches, receiving yards and touchdowns.
Now, he's the Offensive Player of the Year, a Super Bowl Champion and a Super Bowl MVP. The lesson: Never quit.
Cooper Kupp's wife Anna Croskrey is another inspiring example. She worked full-time to pay for Kupp's college, so he could pursue his dream of being an NFL player. After victory over the 49ers in the NFC Championship Game, Kupp collapsed into tears and went to pick up his wife. When asked why he was so emotional, he replied: "She was the only one who believed in me, I wouldn't be here if it wasn't for my wife, this triumph is for her."
Have a goal. Have a plan. Then execute the plan. Stick to the script while learning and making the adjustments that you think will help.
But don't quit. Don't stop. Keep going, because the storms will pass, and when they do, you want to be ready.
Kobe Bryant is possibly one of the greatest NBA players of all-time and the greatest Laker ever. Two jersey numbers in the rafters at the STAPLES Center prove it. Kobe was able to take over games in ways that not many players could.
His drive to win at any cost helped him succeed on and off the court. An 18-time NBA All-Star, five-time NBA champion and one-time NBA MVP, Kobe tragically passed away on January 26, 2020. Kobe's game was influenced by Michael Jordan, he never denied it.
Kobe worked like he had no talent, then he played like he believed he was the best player in the world. Prepare with humility; perform with confidence, that's one of the many lessons he taught us.
Leave a comment