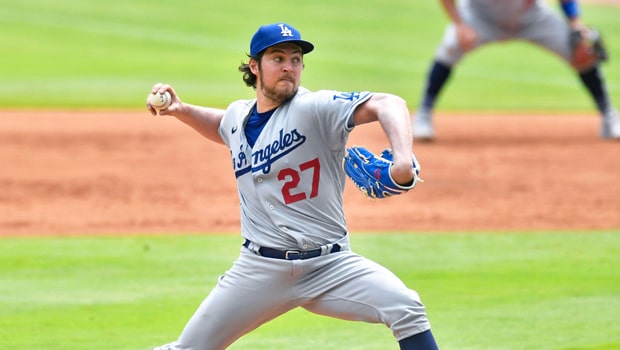 The MLB announced Los Angeles Dodgers pitcher Trevor Bauer has been suspended for two full seasons, 324 total games, under the league's domestic violence and sexual assault policy.
Bauer, who is 31 years old, is accused of sexual assault by a woman who requested a restraining order. A judge in Los Angeles denied the request of a permanent restraining order in August 2021. The Los Angeles County District Attorney's office also declined to file criminal charges in February 2022.
Bauer hasn't pitched since June 2021, when the initial claim was filed against him. He has been on administrative leave by the MLB since July 2021.
Reports indicate the suspension would cost Bauer $60 million in salary.
"In the strongest possible terms, I deny committing any violation of the league's domestic violence and sexual assault policy," Bauer said in a statement. "I am appealing this action and expect to prevail. As we have throughout this process, my representatives and I respect the confidentiality of the proceedings."
Bauer joined the Dodgers on a three-year deal last year in February following an NL CY Young Award during the 2020 season.
The Dodgers released the following statement about the situation:
"Today we were informed that MLB has concluded its investigation into allegations that have been made against Trevor Bauer, and the Commissioner has issued his decision regarding discipline. The Dodgers organization takes all allegations of this nature very seriously and does not condone or excuse any acts of domestic violence or sexual assault. We've cooperated fully with MLB's investigation since it began, and we fully support MLB's Joint Domestic Violence, Sexual Assault, and Child Abuse Policy, and the Commissioner's enforcement of the Policy. We understand that Trevor has the right to appeal the Commissioner's decision. Therefore, we will not comment further until the process is complete."
Bauer, if the suspension were to stand, will be the 16th player suspended under the joint domestic violence, sexual assault and child abuse policy that was put in place in 2015. MLB commissioner Rob Manfred has the autonomy to suspend players under 'just cause.'
What sets Bauer's suspension apart from the others is that the suspension will be effective immediately, and not retroactively.
Prior to June 2021, Bauer had won eight of his first 17 starts with the Dodgers.
For his career, Bauer has pitched for the Arizona Diamondbacks, Cleveland Indians, Cincinnati Reds, and L.A.
Leave a comment