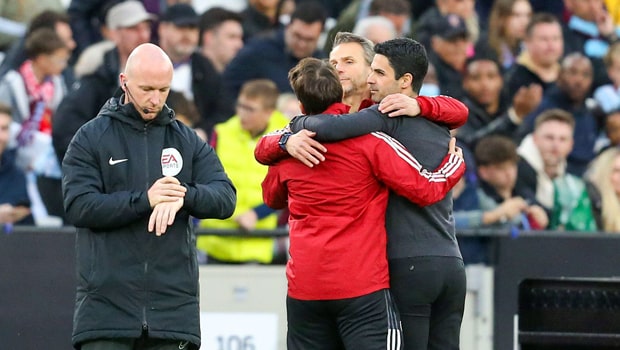 Arsenal came up with a hard-fought 2-1 win against West Ham United to leapfrog rival Tottenham Hotspur in the Premier League points table. Despite having plenty of chances, Arsenal's scored twice from corners as Rob Holding and Gabriel stepped up in each half to help them sneak past the Hammers as Jarrod Bowen's goal only remained as mere consolation.
Arsenal climbed into the top four with the win ahead of their North London rivals Spurs. They also won their match against Leicester City 3-1 but still remain outside the Champions League spots.
Keeping the Europa League semifinals in their mind, David Moyes rotated the squad a little bit. But West Ham came out all guns blazing as they constantly kept Arsenal pushing back. Hence Mikel Arteta claimed that they won ugly as the Gunners somehow sneaked past a very good West Ham side.
After the game, Arteta was open to expressing that his team was not at their best in their third consecutive win in the Premier League. But he also praised his side's character and composure to keep holding on to the single goal lead and come home with all three points.
"In England, you say 'win ugly' and from my point of view, we won ugly. It was a massive win in very difficult circumstances because we caused ourselves problems, especially with our decision-making. But the team showed huge character, not giving up but to continue doing the right things."
In the past, Arsenal have played several great games but have not won, so to get three consecutive wins means that they are doing things right. These wins are invaluable as they will allow the Gunners to get back to the Champions League. Therefore Arteta was very happy with the way his players held onto the lead and locked out the Hammers.
"The way they fought and the way they understood how they had to manage the game in certain moments, it was phenomenal. I am extremely happy to see a team that has this capacity to find a way to win and to show the character they showed," Arteta added.
Arsenal and Arteta's main aim will be to continue this form and keep going. The Gunners will face Leeds United next followed by the North London Derby against arch-rivals Tottenham. It promises to be a very decisive game as it can turn the tables in the Premier League standings.
Leave a comment