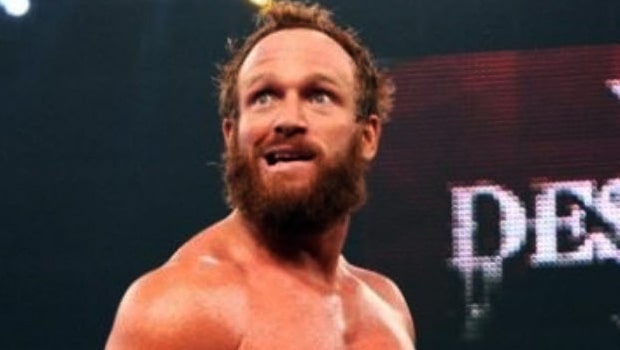 Former World Champion Eric Young has made a return to IMPACT Wrestling after losing out his job in the WWE during the pandemic.
He had been a star in IMPACT wrestling for a long part of his career. He was a mainstays during his TNA days for 12 continuous years but he made a move to the WWE in 2016. He enjoyed a good run in Triple H's NXT brand as the leader of SAnitY but he didn't have the same success as far as the main roster was considered. And then, he was laid off in April last year as a part of the initial wave of releases from the company and that brought a setback into the life of the 41-year-old.
But IMPACT came calling afterwards and he is happy to be where he is right now.
"Obviously I could've done without being fired during a global pandemic, but I'm a huge believer in fate – I've got the word fate tattooed on my underarm on my right arm. It's something I believe in completely," Young was quoted as saying by metro.co.uk.
"I'm exactly where I'm meant to be. The last six months have been maybe my favourite six months of my entire career – that's a lot to think about! It might be recency bias, but it's been awesome, man," he added.
When Young got sacked, he thought that it would be better to draw curtains on his career as a wrestler.
"There was definitely part of me that was like, maybe I'm done wrestling,' he candidly admitted. 'To be honest, I've accomplished more than I ever thought I was going to tenfold!
"I didn't wanna be done, but that was definitely part of the discussion I had with my wife. I'm not a spring chicken, but I was maybe taking it as a sign maybe it was time to do something else."
But Young thinks that whatever has happened, has happened for good. He is in a very happy state of mind right now and the move to IMPACT has revitalized his interest in wrestling again. According to him, IMPACT has given his career a new lease of life.
"The last six months have been some of the most memorable and best times of my entire career."
"It's a total revitalisation… I was never out of love with pro wrestling, I was out of love with the process of pro wrestling,' he said.
"It didn't matter what I said or what I pitched, you were just slamming your head against the wall and nothing changed.
"Being in IMPACT, it's collaborative, every single person wants to have the best match on the show and I think it shows. IMPACT is written by professional wrestling fans for professional wresting fans."
Leave a comment