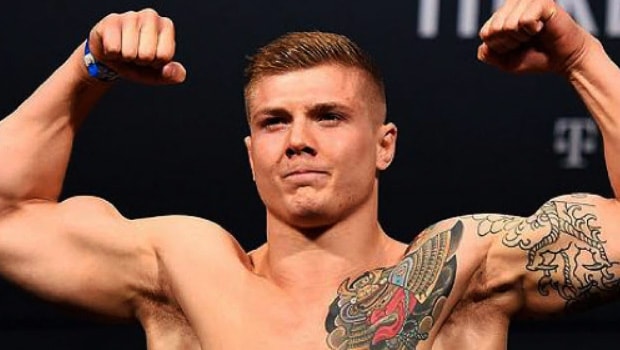 Marvin Vettori unleashed a deadly attack on Jack Hermansson on Saturday night, December 5, earning him the unanimous decision of the judges. The match lasted the full five rounds as both men struggled, each determined to stay strong till the end. But Vettori dealt the better blows, triumphing over a higher-ranked Hermansson.
The first round began with both men trading kicks which later switched to punches. Vettori was on the offense while Hermansson did a good job blocking the blows being thrown at him. Vettori then changed strategy by dropping Hermansson to the floor with his left hand and got on top of him, still throwing shots. Hermansson was able to prevent Vettori from causing serious damages but he only got back to his feet with few seconds to spare in the round.
The second round began with Hermansson wanting to inflict his own pain. After a few shots, he went for his takedown attempt, but Vettori had other plans, and staying down was not one of them. Vettori later turned the attempt around to his favour and took the top position. Both fighters later returned to their feet, Hermansson still tried to bring Vettori down but did not get the chance till the round ended.
Hermansson continued with his takedown attempts in the third round but Vettori refused to fall. However, Vettori was not as sharp as in the previous rounds and Hermansson was the one pressing forward and calling the shots, and inflicting the damages. In the fourth round, Vettori seemed to regain some of his strength as both men were now going back and forth, neither willing to bow to the other. Vettori was making use of his left hand more, increasing the tempo of the match.
In the final round, both men came out firing with all they had. Vettori fired his shots and Hermansson responded in kind. Towards the final seconds, Hermansson backs Vettori against the fence but Vettori is able to struggle free, put Hermansson in a body lock, and push him against the fence. The match comes to an end in favour of Vettori (49-46 49-46 49-45).
This is Vettori's fourth straight win. What is interesting to note is that he entered the match as a replacement for Kevin Holland who tested positive for coronavirus. The fight took the Fight Of The Night award, earning both fighters an extra $50,000 each. The fight also earns Marvin a top-5 spot in the middleweight division.
Leave a comment