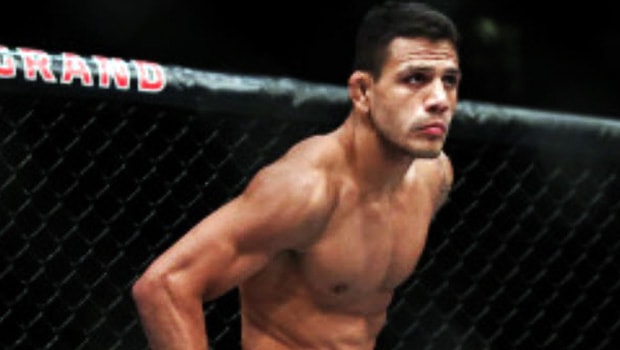 Rafael dos Anjos returned to the ring as a lightweight fighter one more time on Saturday, November 14, squared off against Paul Felder, who entered the fight as a late replacement and won the fight by a split decision, with two judges giving the win to him. This was the first time in 5 years that Dos Anjos, a former lightweight champion, was fighting at 155 lbs.
Felder was the first person to land a hard kick in round one, the first major move, but Dos Anjos returned that with a body kick, followed by hard punches, most of which Felder was quick to block.
Then, using his elbow, Felder was able to cut Dos Anjos on his forehead, drawing blood. Dos Anjos reached for a takedown, throwing Felder to the floor but Felder was quick to get back on his feet. Both men briefly exchanged punches and kicks till Felder tried to reach for a takedown, which Dos Anjos quickly avoided. Dos Anjos instead landed a hard knee on his opponent and finished it off with a punch.
Felder was also the one who began the second round with a kick, followed by an elbow. Dos Anjos was doing well by landing jabs but was unsuccessful with his takedown attempt. Both men still continued with the punches until Dos Anjos found luck with his next takedown attempt. Felder wasted no time on the floor and got up quickly.
He then spent the remaining minutes in the round trying to block takedowns from Dos Anjos. The third round opened with the usual kicks from Felder. Dos Anjos was finally able to get Felder down with his second takedown attempt for the round. Felder struggled to get back on his feet but did not stay for long as Dos Anjos found the chance to lift him and throw him to the ground. Felder then put up a good defense as Dos Anjos supplied a series of punches from the top position.
Round four began with an unsuccessful flying knee attempt from Felder. At this stage, both men were now tired and were not reaching out for themselves like in previous rounds. Dos Anjos found the chance for a takedown and took Felder up against the fence.
Both men started to fight from that position, with Felder missing many of his shots. Dos Anjos then launched a shot that cut Felder open. Felder replied with a takedown. The fifth round followed the usual pattern from Felder, but this time dos Anjos blocked it and had two of his takedown attempts also foiled by Felder. Dos Anjos later found the chance for a takedown. On the floor, Felder resisted every submission attempt from dos Anjos and defended himself well from several punches, although he did not throw any of his own. He managed to get back on his feet, only to suffer more punches from Dos Anjos and was back on the canvas again. Dos Anjos then held Felder on the ground position till the fight came to an end.
Two judges scored the fight in Dos Anjos favour (50-45 50-45) with only one dissenting decision (48-47). Felder joined the fixture as a replacement just five days before the fight but still managed to put up an impressive performance, fighting to the finish. Felder later revealed that he had not been to an MMA gym in four months, although he had hopes of coming out of the fight victorious.
Dos Anjos used the opportunity to call out retired fighter Connor McGregor; "If Khabib is really retired, it will leave the division wide open. If you look at the contenders, me and Conor, we are the only champions in that division. Everybody else are only interim champions. I think me and Conor is the fight to make."
Leave a comment