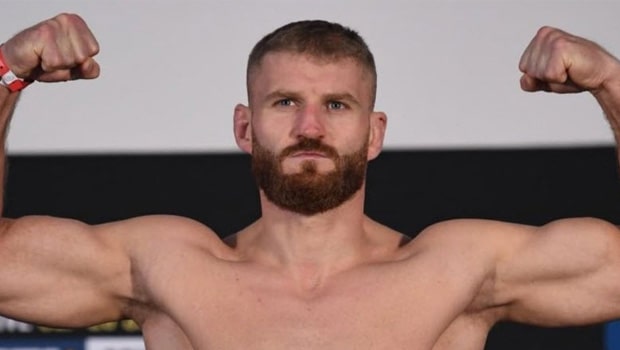 Jan Blanchowicz has added another achievement to his collection after defeating Israel Adesanya by unanimous decision at UFC 259, being the first man to do so.
Both men fought till the end but the votes went in favour of Blanchowicz who would hold on to the UFC Light Heavyweight title for a while. Adesanya's first attempt at taking on a new division and setting a new record for himself was thwarted but he still remains the king of the Middleweight division.
From the very first round, both fighters proved to be quite the match. When Adesanya delivered blows, Blanchowicz returned them with kicks. Jabs and body kicks were flying throughout the first round with each man trying to outdo the other. But Adesanya was able to dominate that round which just bears testimony to how good a fighter he is.
The second round followed almost a similar pattern and action only came to a brief halt after Blanchowicz accused Adesanya of an eye poke but things quickly resumed and Adesanya was back to action, pressing Blanchowicz who responded with the equal action.
Blanchowicz was quick to take control of round three as he landed shots and forced a takedown against the fence. Adesanya was quick to get back on his feet and do some damages of his own.
A Brazilian kick here, more shots there. Blachowicz put him against the fence two more times but he was quick to break free. The fourth round was not any different and from the way things looked, both fighters were not willing to give the other the advantage they needed. The real damage came in the fifth round when Blanchowicz was able to score a proper takedown and was on top till the end of the fight, still punching and giving Israel no chance to right himself.
Blanchowicz won the fight by unanimous decision, 49-46, 49-45, 49-45. Despite the loss, some praise must be given to Adesanya who attempted a fight in another weight class without adding any weight. The fact that Adesanya took the fight to the finish just shows how much of a force he is to reckon with in the UFC. Speaking on his loss after the fight, he said, "Losses are part of life, and losses are something I deal with occasionally. Just this is my first one in MMA, but as they say, it is what it is." He also praised Blanchowicz and said it was a good thing that his first loss came in the hands of someone with a history like him.
Written by: Leon Osamor
Leave a comment