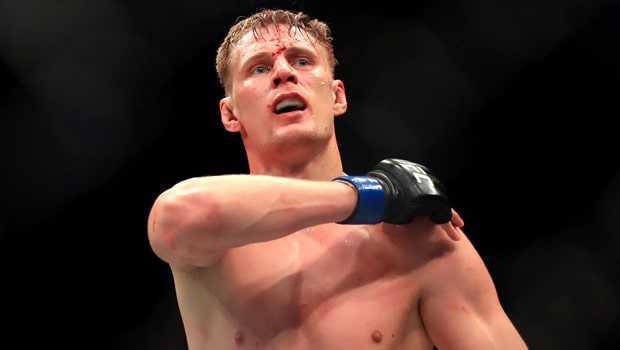 Alexander Volkov may have had some decent wins in his fighting career but his victory over veteran Alistair Overeem would go down as one of his best. He managed to knock out the much older fighter barely two minutes into the second round to win the fight. By then, Overeem's face was already bloodied up and he later revealed in a congratulatory post to Volkov that his nose was broken in the first round.
Volkov came charging from the get-go, giving his opponent very little time to balance himself. Overeem, who began on a much softer pace soon had to go against the fence in form of defence. But soon found steadied himself and delivered two overhand lefts, one of which connects. He followed that with an oblique kick and a left hand. Not willing to stop, Overeem landed an uppercut and a body kick. Overeem then slipped as he attempted to deliver another left hand and Volkov took the chance to deal with him, backing him against the fence, using his knee against him. Volkov continued to apply pressure till the round came to an end.
Round 2 began with so much force from Volkov who was determined to finish what he started. This time, he was not willing to give his opponent any chance nor the slightest opportunity as he countered all his shots and broke his defence. Volkov instead turned things and landed a left hook that dropped Overeem. The referee prevented him from delivering more punches and declared him the winner, the fight came to an end at 2:06.
This fight marked the second straight finish from Volkov and he expressed his desire to go for a title shot in his next fixture: "For sure, I want to fight for the belt. But we will see. We have some good fights in the future at heavyweight. We'll see what will be my place but I surely want to take a title shot."   He also expressed how good he felt after the fight, but said: "This is not the finish of my form, I'll be better." Overeem, who is 41 now, said that he was going to spend the coming days recovering from this fight and going to the gym, but he gave no hint about a possible retirement date.
Leave a comment