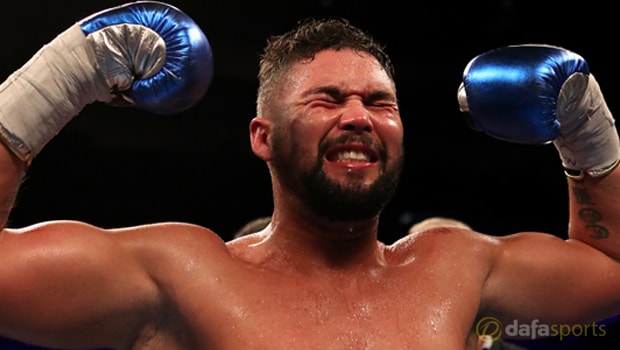 Tony Bellew says he would be open to taking on British UFC middleweight champion Michael Bisping in the ring and the octagon.
Undefeated boxer Floyd Mayweather and UFC champion Conor McGregor are set to go toe-to-toe in a boxing ring at the T-Mobile Arena in Las Vegas on August 26 following years of trash talk between the pair.
Bellew is one of the many interested to see how the bout with to take place under boxing regulations will shape up and he is travelling to the US to watch it unfold up close.
The Merseyside fighter, who most recently defeated David Haye after stepping up into the heavyweight division, admits he would also be open to the idea of also taking on a competitor from the UFC.
The 'Bomber' insists he has some mixed martial arts training and believes a two-match showdown with Bisping would be an attractive prospect.
Bellew said: "I can wrestle, I can grapple, I punch hard, I can kick and I've got some kickboxing experience.
"You can forget about me getting in the cage with Jon Jones [UFC light-heavyweight champion] – not an chance.
"But if you're asking if I would get in the cage with a puncher in the UFC? Mike Bisping is a guy who is predominantly known as a puncher and he's a very strong wrestler as well. "I think I could get down to 185[lbs].
If the money is right, then Tony Bellew would happily enter a cage or a ring. Maybe let's do one of them each.
"I'm a Michael Bisping fan, but if the money was right then the fan stuff goes out the window."
Mayweather can be backed at 1.22 to come out on top in the super-fight later this month, while McGregor is priced at 4.33 to claim the win and the draw is available at 41.00.
Leave a comment