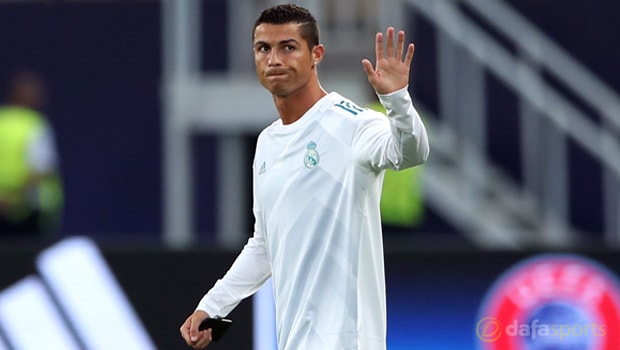 Cristiano Ronaldo has been dealt a five-game ban by Spanish authorities after he pushed a referee in Real Madrid's Super Cup win over Barcelona on Sunday.
Ronaldo came off the bench in the second half of the domestic curtain raiser and he duly fired Madrid into the lead with 10 minutes to play.
He was booked having taken his shirt off and shown it the home fans after scoring.
Moments later, the Portuguese was adjudged to have dived by referee Ricardo de Burgos Bengoetxea, who promptly showed him a second yellow card.
Ronaldo, 32, then pushed the referee in the back after he had been sent off.
Ronaldo has 10 days to appear his ban and will miss Wednesday's second leg against Barcelona in the Bernabeu, where Zinedine Zidane's side enter with a 3-1 advantage.
Should he fail to overturn the ban, the Real Madrid captain will be out of action domestically until September 20 against Real Betis, missing the first four La Liga games.
Zidane initially suggested his club would be appealing the yellow card issued for diving, which the Frenchman believed was an incorrect decision.
"Ronaldo's sending-off annoys me because even if it is not a penalty, the card is harsh," he said.
"We will see if we can do something so that he is available on Wednesday."
Assessing the five-game ban, former Premier League referee Dermot Gallagher suggested the former Man United winger could count himself fortunate.
"The message they've got to send out is it's unacceptable to push a match official," Gallagher told BBC Sport.
"If I'm walking down the high street in my town I can't go pushing a policeman. There is nothing to excuse what Ronaldo did.
We cannot accept this at any cost." Real Madrid are 2.38 to win the second leg against Barcelona, who are 2.70 for Wednesday's game with the draw 3.75.
Leave a comment