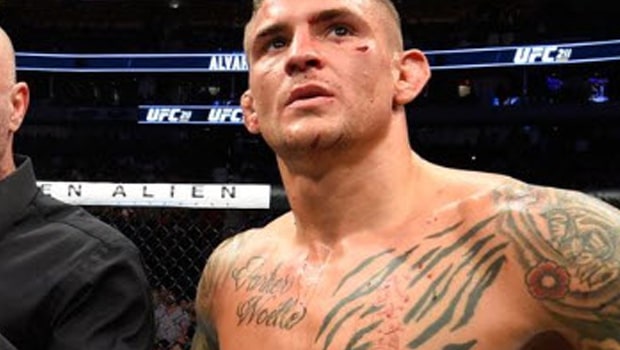 Ever since his humiliating loss to Khabib Nurmagomedov on last September, American mixed martial artist Dustin Poirier has been throwing shades at different people for frivolous reasons.
The latest person to get the stick from the 30-year-old is Colby Covington, who was described as a 'sellout' by the frustrated American. Poirier called Covington out on live TV as he could not hide his exasperating disgust of his fellow countryman.
Poirier fell to a disappointing loss at the hands of Khabib Nurmagomedov a few days ago, losing his chance to become the undisputed UFC lightweight champion.
Nurmagomedov must be somewhere in Ibiza, basking in pleasure and merriment, after bagging a bumper $6 million in his UFC 242 win against Poirier. That defeat happened to be The Diamond's first loss since September 2016.
Now, there seems to be beef brewing between two of Poirier's American Top Team teammates, Colby Covington and Jorge Masvidal. Every MMA fan is well aware of the tight friendship bond that the trio have built over the years.
However, it appears Covington, and Masvidal's bromance is slowly dying, taking their recent Twitter activity into consideration. The former took to Twitter to reprimand his 'former friend,' so to speak, over calling out UFC welterweight champion Kamaru Usman just before his bout with Nate Diaz was made official.
In a savage tweet, Covington wrote, "I know you are dumb and desperate," making reference to Jorge Masvidal. "But you spelled JOURNEYMAN TITLE wrong junior. Reading is fundamental and #supernecessary. Just like WINNING is #supernecessary to get title fights. You should try both some time, you trash bag".
Following this tweet, Poirier expressed his displeasure at Masvidal and Covington during the UFC 242 post-fight press conference. He even went as far as ripping Covington in pieces during the course of the interview.
Speaking with MMAJunkie.com, Poirier with an assertive voice, "I don't sell out like Colby Covington and talk bad about people that I roll with."
When asked if he has plans of ever fighting Masvidal in the future, "No, Jorge is a buddy of mine, and I will not fight him. He's a training partner and a very good guy".
"If anything, I'll go out to Florida and help him for that fight," Poirier concluded.
Leave a comment