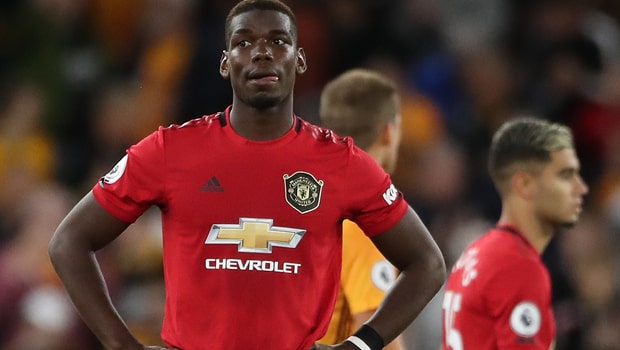 Real Madrid had shown great interest in signing Manchester United star Paul Pogba this summer. However, the transfer couldn't materialize before the transfer window closes. Here is the reason why Real Madrid never wanted Pogba.
The Los Blancos coach Zinedine Zidane had wanted his compatriot at the Santiago Bernabeu, with the 26-year-old midfielder also interested in joining the European giants.
Real Madrid had already spent €305 million to sign Eden Hazard, Luka Jovic, Rodrygo Goes, Ferland Mendy, and Eder Militao but was still looking to add Pogba to their acquisitions.
However, recent news has it that the Spanish club was never interested in signing the French international but rather, the transfer news was only a publicity stunt. This was revealed by Jose Mourinho's adviser Eladio Parames.
Parames claimed that Real Madrid did not want Pogba at the club because of the problems he could be causing in the dressing room, but they had to let the news fly because of their fans.
Pogba was reported to be keen on quitting Manchester United this summer. He was a top target for Real during the transfer and had been linked with a £150 million move to the club.
Real Madrid was said to have been put off by the transfer fee, but Parames claimed the Frenchman's attitude made the former Champions League winners to back out of a deal for him.
Parames, who is a close ally of Mourinho, said: "In fact – a truth that one day will come out – they were not interested in opening the purse string. And why? Because they realized buying him would also mean buying the problems, he creates in the dressing room. Hence there has never been on an official declaration of interest, rather just letting the news to feed their fans' passions".
Former club Juventus and French giants Paris Saint-Germain were also interested in signing him. However, it is reported that negotiations are ongoing to offer Pogba a new deal.  Manchester United have reportedly contacted the midfielder's agent Mino Raiola for discussions.
Pogba returned to Old Trafford in 2017 in a then world-record transfer fee of £89 million. He has been reportedly involved in different controversial issues in the dressing room, including the departure of Jose Mourinho. He currently has two years left on his contract and United may be forced to cash in on him next summer if he refuses to agree to a new deal.
Leave a comment