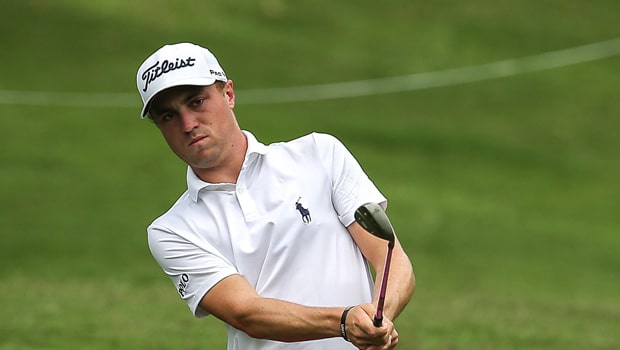 Justin Thomas overcame his struggles to win The Players at 14 under, overpowering overnight Lee Westwood by one shot. This is Thomas's first major win in four years and it comes after a series of unfortunate events in his life as he recently lost his grandfather who had always been a major inspiration to him. Back in January, his career took a hit after he was heard saying a homophobic slur. But Thomas was able to turn his fate around by defeating overnight leader, Westwood to claim victory.
Westwood started the day at 13 under, 2 shots ahead of everyone else, closely followed by Bryson DeChambeau. He started his game good, making a birdie earlier on, and held his 2-shot lead for a while even though his ball entered water twice. All the while, Thomas was silently moving ahead, making a birdie at the ninth and tenth hole and making an eagle from a 20-foot shot at the 11th hole. Thomas dropped a shot at the 14th while Westwood made a birdie in that same hole. DeChambeau had luck at the 16th after making a birdie, although that did not affect the rest of his game as he finished 3rd at 12 under. Thomas was able to make par on both the 17th and 18th to clinch victory, one shot ahead of Westwood.
For Thomas, the victory is a silver lining in what has been a couple of rough weeks in the past. Before the game, his dear friend, Tiger Woods, sent him supportive texts which helped inspired him to win the game. A similar thing happened last week as Woods texted DeChambeau who won the Arnold Palmer Invitational.
Speaking after the game, Thomas expressed that he was in a better state of mind and that may have helped his game; "the headspace that I was in this week was a huge step for me. I was in a lot better place than I have been the last couple of months, so I think that was huge, and I don't think it's any coincidence that my golf was better." Westwood put his loss on his age, although the 47-year-old made it known that he is not done competing as he would be in next month's Master's, where his son would be his caddie.
Leave a comment