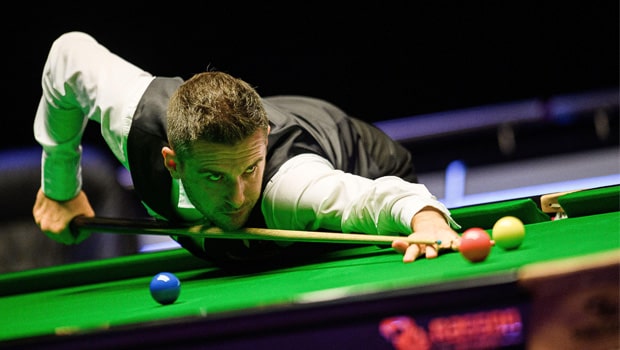 Mark Selby has finished top of the pile in Group E after winning six of his seven league encounters. The former world number one was dominant from the start to the finish, losing only four frames throughout the competition in Milton Keynes. His slip came in a 2-0 reverse game against Soheil Vahedi.
Topping the Group E takes him automatically to the second round of the event. Stuart Carrington who finished second in the standings will also be joining him in the next round. Carrington needed a win to Vahedi to finish second place and he made sure of that. A 2-0 win over Vahedi saw him progress to the second stage ahead of the Iranian.
Vahedi slipped into third place, thanks to Carrington's superior frame difference. Matthew Selt and Joe O'Connor are the other two players making up the group.
Jack Lisowski, Shaun Murphy, Kyren Wilson and Stuart Bingham are some of the other big names to cruise into the next round.
The stage two of the competition will comprise thirty-two players who will be split into four groups of eight members each. The top two players from each group then progresses to contest in the final group.
The resulting eight making up the final group will then battle for the ultimate crown. A total of £420,500 will be awarded throughout the course of the tournament. This total tournament prize is broken down into many parts throughout the duration of the tournament according to a predetermined formula.
The eventual winner of the Pro Series goes home smiling with a fat cheque of £30,000.
Elsewhere, Ronnie O'Sullivan came out tops in his game against Mark Joyce despite losing a frame for arriving late. The former world champion saw his chances of qualifying slim-out after bowing out 2-1 to Ben Hancorn. A late appearance against Mark Joyce didn't do him any good either. However, he quickly wrapped up the game in 14 minutes with a solid 2-1 win. He got off on the front foot with an amazing break of 98 before rounding it up with a break of 50.
Leave a comment