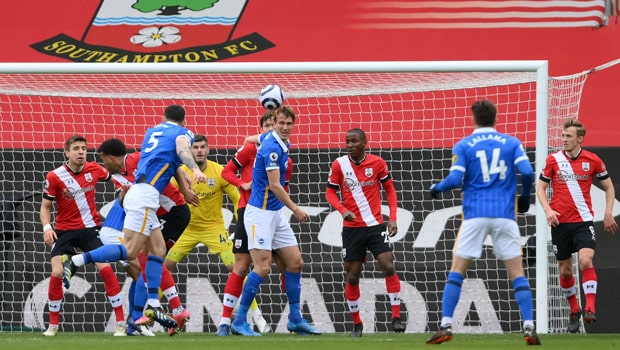 Premier League action continued this weekend as Brighton captain Lewis Dunk's header helped open the way for a 2-1 win vs Southampton. Huge win for the Seagulls as they gained three points to help their relegation battle.
"It feels really good," Dunk said after the win. "That was a proper performance – the first half was even, though we were disappointed with the goal we conceded, but we were excellent in the second half and the winning goal showed how good we can be."
Simply put, the performance was excellent and the three points well-deserved. Brighton dominated the second half  following a halftime change of having a back three. Danny Welbeck, Adam Lallana with their movement; Dunk, Leandro Trossard with their goals made Sunday a moment to celebrate for fans, players and coaches alike.
Brighton took an early 1-0 lead as Dunk connected on a powerful header from a corner. Southampton's Che Adams evened the match at 1-1 soon after.
Dunk has scored 20 league goals for Brighton, with 15 of those coming via headers.
"In the second half the opponent wanted it more and we have to be self-critical about it because it was by far one of the worst games we have played this season," Southampton manager Ralph Hasenhuttl said. "It is time to work on a few basic fundamentals in the next weeks. The second goal gave them a lift. Afterwards, we did not have a solution, only one chance at the end."
Southampton won the possession battle 58-42, but had two fewer shots on target (4) compared to Brighton (6).
The win pushed the Seagulls up to the No. 16 spot of the Premier League table. Southampton's 10th loss in their last 12 Premier League matches keeps them in the No. 14 spot with a seven-point cushion from the relegation zone.
Sunday against Southampton was the first time in 11 league fixtures that Brighton had scored more than once.
Looking ahead, Brighton get set to host Newcastle United this upcoming Saturday while Southampton stay on the road for an FA Cup quarter-final match vs Bournemouth.
Leave a comment