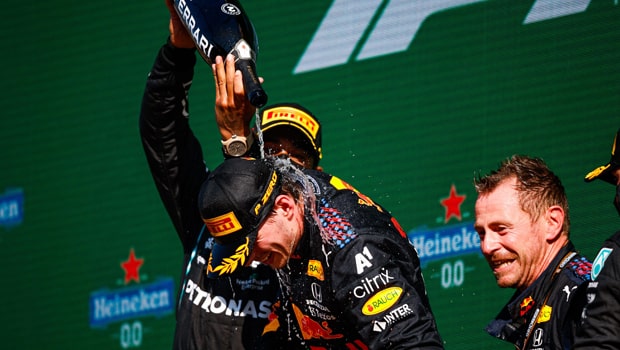 Max Verstappen has pushed Red Bull back to the lead of the leaderboards as he passed the finish line at the Zandvoort Circuit first to win the Dutch Grand Prix.
This is the first time he is winning at home and this is the first time in 36 years that a Dutch is winning his home race. Mercedes driver Lewis Hamilton finished seconds later to claim P2 while his teammate Valterri Bottas followed closely for third. Verstappen's win helped him overtake Hamilton at the top of the leaderboard. Hamilton finished first last week at the Belgian GP, but due to how the race ended, racers were given half points, which helped to narrow Hamilton's lead over him.
This Sunday in the Netherlands, the weather was very clement, allowing the race to go on as planned. Verstappen has the pole position, after getting to the finish line before Mercedes rival Hamilton, who started at P2, with Bottas behind.
Verstappen had the lead for most of the race. He lost it at one point when he made a pit-stop just as Hamilton made his, giving Bottas the lead. He also lost the opportunity of the fastest lap after he lost it to Hamilton just on the last lap. Alpha Tauri's Pierre Gasly strode right after Bottas for fourth place while Charles Leclerc became the first Ferrari to cross the finish line for fifth place.
The Hamilton-Verstappen's rivalry thickens as Verstappen has now regained the lead he lost at the controversial British GP, which saw Hamilton claim the win at home after having a collision that forced Verstappen to retire. But it was all love for both drivers as Hamilton cheerily poured his champagne on the winner at the podium. Speaking after the race, Hamilton said, "I was just trying to keep as close as possible but I tell you, he was fast today. They were on another level that I generally couldn't answer really in most of those laps."
Mercedes continue to face the problem of trying to beat Red Bull this season as the other team has proven to be generally faster.
Leave a comment