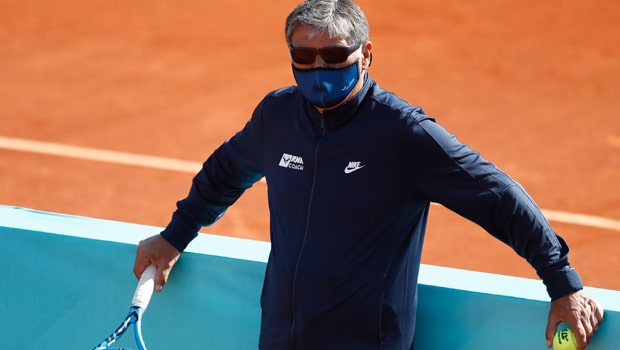 Rafael Nadal's former coach and uncle Toni Nadal has hit out at the World no.3 Stefanos Tsitsipas for his controversial long bathroom breaks during the first round of the US Open. The Greek player took lengthy breaks after losing the third set and winning the fourth against Andy Murray.
Firstly Tsitsipas called for the physio after losing the third set and then took the bathroom break after winning the fourth, thus disturbing the momentum of the match. The 23-year old from Athens went on to win the thrilling match against the former World No.1 but Murray stated after the match that he lost all respect for Tsitsipas.
In fact, this is not the first time that Tsitsipas came under the scanner for his untimely breaks as he had done the same in the semifinal of the Cincinnati Masters against Alexander Zverev and left the German frustrated.
Nadal, the renowned coach stated Roger Federer and Rafael Nadal would never do such an act and urged ATP to come up with strict rules against the break timings.
"I think that no follower of our sport can imagine Roger Federer or Rafael [Nadal], I don't see why I cannot say it, looking for extra sporting shortcuts to achieve victory," he wrote in El Pais. "The way he [Tsitsipas] acted was not fair. Rafa or Federer would never do that. Stricter rules should be implemented for bathroom breaks.
"Tsitsipas is undoubtedly a brilliant player and as such we expect him to win without the need for any ruse that he can profit from. Obviously, you don't need them. "He is on his way to becoming a great champion, not only because of his victories but because of how he achieves them."
Meanwhile, Stefanos Tsitsipas' journey in the ongoing US Open was ended by 18-year old youngster from Spain, Carlos Alcaraz, who defeated the Greek in a thrilling five-setter in the third Round.
Leave a comment