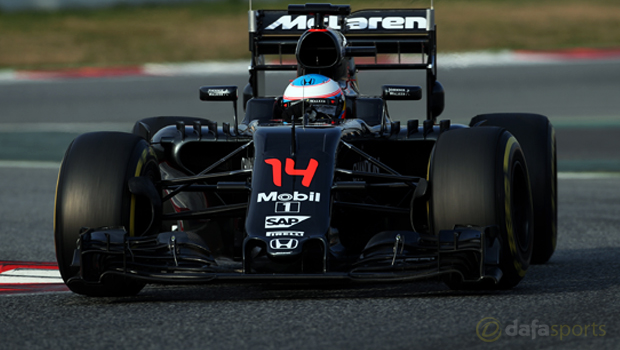 Fernando Alonso doesn't think McLaren will be able to challenge at the front in the early stages of the 2016 campaign although he says podiums are a realistic long-term aim.
Reliability was a big issue for McLaren last term as Alonso failed to finish in seven races, including five of his opening seven after he missed the opener in Australia.
Meanwhile, team-mate Jenson Button retired five times and failed to start the race in Bahrain.
Both McLaren drivers reported improvements in Honda's power unit in pre-season testing and Alonso feels the team can start to focus on performance and speed now reliability concerns have been addressed.
"I think reliability will be a huge step forward," he told ESPN. "We had to dramatically change some of the philosophy of the power dramatically to improve reliability. In terms of performance, I think we need to still unlock a lot of performance in the engine because we ran a little bit conservative now to have the reliability."
Alonso insists adding to his two World Championship crowns is the ultimate goal and he feels that will be possible with McLaren, but ahead of the 2016 campaign he says podiums in the latter half of the season will be the target.
He added: "I think at the beginning of the year it will be difficult – after winter testing, we still miss a little bit of performance. But the championship is very long; 21 races, 10 months.
"I am sure our developing will be quite high and I think a podium possibility will be possible, but we want more than that.
"We go step by step but to be world champion is the final target with the team and myself. This year it seems that that will be extremely difficult but, you know, next year or whenever it comes, we need to work with that target in mind."
Alonso is 67.00 to win the World Championship next season while defending champion Lewis Hamilton of Mercedes is 1.50.
Leave a comment