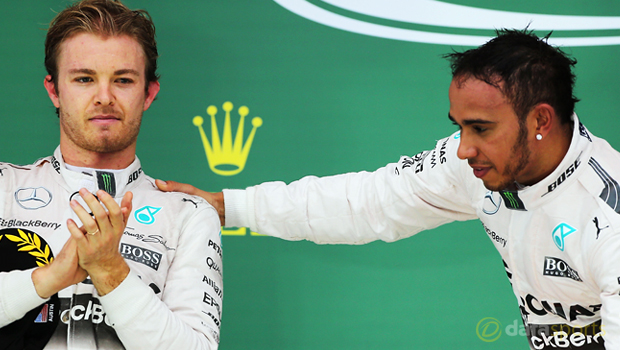 World champion Lewis Hamilton and Mercedes team-mate Nico Rosberg may find themselves subject to a Mercedes order not to race against one another after their latest mishap.
Championship leader Rosberg and Hamilton had a dramatic coming together during the final lap of Sunday's Austrian Grand Prix, allowing the British driver to claim race victory and move him to within 11 points of Rosberg in the drivers' standings.
It was the third time in the last five races that the Mercedes team-mates had come in contact with each other and team boss Toto Wolff says it is now possible that the pair will be ordered not to engage each other.
Wolff admits that the thought of taking that step 'makes him puke' but he feels there may be no alternative given their recent poor records when taking each other on.
"The only consequence is to look at all the options and one option is to freeze the order at the certain stage of the race," Wolff said.
"It's unpopular, and it makes me puke myself because I like to see them race, but if the racing is not possible without contact that's the consequence.
I have to cool down and in the next couple of days figure it out."
Hamilton's home race is next up and Wolff is fully aware that any decision to impose team orders would be hugely unpopular with both his drivers and F1 fans.
He maintains it is something that must be considered before the British Grand Prix.
"Our mindset has always been to let them race, and let them get on with it," added Wolff.
"All of us remember the days of strategy calls and they make it boring.
"But collision of team-mates is a no-go for every team so at a certain stage you need to step in and discuss it."
Hamilton is 2.00 to win at Silverstone while Rosberg is 2.88.
Leave a comment