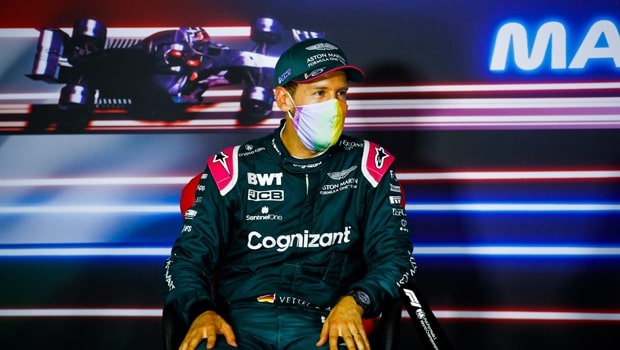 Aston Martin has confirmed that they have submitted a right of review request to the FIA over the disqualification of Sebastian Vettel from the Hungarian Grand Prix.
Vettel was announced as the second-place winner as Esteban Ocon emerged first with Lewis Hamilton for third. But hours after, Vettel was disqualified from the race, placing Hamilton in second. According to the FIA, Vettel was disqualified because the FIA's technical delegate was unable to take the mandatory 1.0 litre sample at the end of the race as they were able to extract just 0.3 litres. But Aston Martin has now claimed that they have evidence that might make the FIA overturn its decision.
According to Aston Martin, data after the race showed that Vettel had 1.74 litres of oil remaining in his car. This is well above the 0.3 litres the FIA claimed they were only able to take from the car. The statement from Aston Martin reads; "Since the team's data indicated that there was more than 1.0 litre of fuel in the car after the race – 1.74 litres according to the data – the team immediately reserved its right to appeal, and has requested a right of review alongside the appeal procedure, as a result of having discovered significant new evidence relevant to the sanction which was unavailable to it at the time of the FIA stewards' decision."
This is the second consecutive race when a team would request a right of review. Red Bull had requested a right of review after the Hamilton-Verstappen collision. The FIA ruled that Red Bull had no new evidence for the case. Aston Martin is claiming now that they do not have evidence that was available at the time of the crash. If the FIA determines that there was no new evidence, they would have to throw the case out as well.
Leave a comment