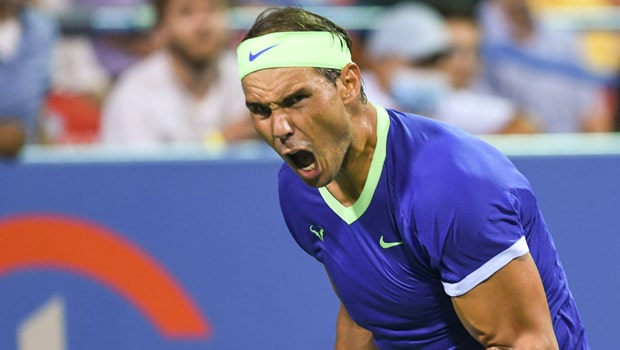 World no.3 Rafael Nadal of Spain has said that winning Grand slams has the same importance as ever. The Spaniard also insisted that being neck and neck in terms of numbers of grand slams (20) with long term rivals Roger Federer and Novak Djokovic does not increase pressure or motivation for him.
Nadal, Djokovic and Federer are all level with each other with the record of 20 Grand Slam titles. Nadal won his last major slam in the form of the 2020 Roland Garros.
Speaking with CBS News about how he perceives the upcoming US Open, the 35-year old said it is always of the same importance.
"Honestly it's the same importance as always [to win the US Open]. The fact that Novak has 20, Roger has 20, I have 20 – don't increase the motivation for me or the pressure," said 4 times US Open champion to CBS News.
The southpaw who is considered among the greatest ever of this generation also emphasised the fact that he has his own way of doing things and does not believe in copying methods of others.
"My approach will not change, no? I always say the same, no? I do my way. If Novak or Roger plays there and win – okay, well done for them. I will not be frustrated for that. I know I achieved something that I never dreamed about, and I'm gonna keep fighting [to] keep doing things", further quotes the King of clay as Nadal is nicknamed.
Rafael Nadal, who only last won the grand slam as French Open in 2020 also won the US Open for the last time in 2019. Though the Spaniard even lost to world no.1 Novak Djokovic in the semi-final of French Open in 2021, it would be too early to count Nadal out as he is among the favourites to win the US open tennis championships.
Leave a comment