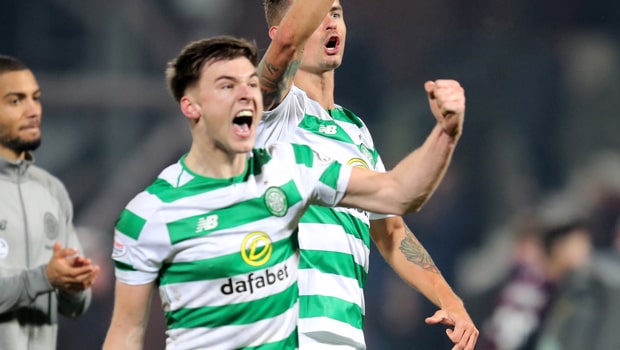 Former Celtic defender Mark Wilson believes Kieran Tierney may be faced with a major career decision this summer.
The 21-year-old is a self-confessed Hoops fanatic but, with his career blossoming, Wilson feels a big offer from an English club is liable to land with Celtic this summer.
Tierney has been established in the first team for over four years now and is thriving. There has been talk of a move before but no concrete offer has arrived. With Brendan Rodgers having moved south to Leicester last week, that possibility is increased.
Watching Scotland team-mate Andrew Robertson thrive at Liverpool will have Tierney wondering what he might achieve with a move to England's top tier, says Wilson. "He has proved himself for a good number of years now.
Clubs may just think: 'Okay, this is the year we go and do it'. Whether it is Leicester or some other club, I don't know. I think it's got to (be a concern)," said Wilson.
"Celtic fans are right in thinking it's a huge club. They're massive. But the reality is, we've seen it last week, a mid-table club in England can offer 'X' amount that will blow anything Celtic can manage out of the water.
"If I was him and playing left-back for Celtic, playing the way I was also for Scotland, and seeing someone [Robertson] doing the exact same at Liverpool, it would only be natural for [him] to think: 'I'm as good as him, I can get to a Champions League final, I can potentially go down there and win the Premier League with a top team'."
Wilson does suggest that Tierney may be torn by the notion of staying and helping Celtic in their history quest for 10 Scottish Premiership titles on the trot.
Both Rangers and Celtic have won nine in a row before but, with the Bhoys rapidly closing in on eight, it is a huge factor for Tierney given his affiliation with the Hoops supporters.
"That's a big ask and only Kieran could tell you that," Wilson said.
"But there would obviously be that thought in the back of your mind. What if that offer never comes again?' People would say ten-in-a-row wouldn't likely come around again, either."
Leave a comment