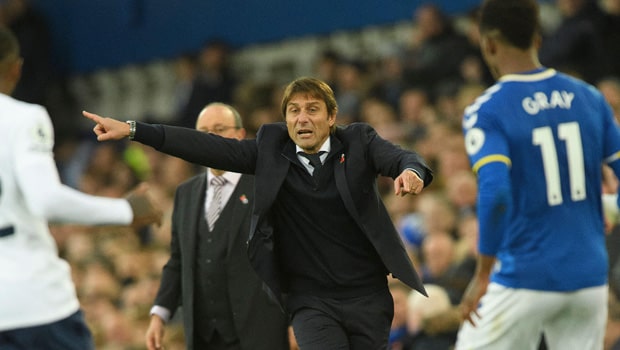 Antonio Conte earned his first points in the Premier League with Tottenham on Saturday as the Spurs finished in a goalless draw vs Everton. Tottenham did seem to be on the fortunate end of a VAR decision that denied the hosts a penalty.
"Honestly, I have to be happy for different reasons and the first that Goodison Park is not an easy place to come to play against Everton, especially when you had a week very intensive, I am talking emotionally for my players, not for the club," Conte said after the match. "After we play the game Thursday and I have to be happy because I started to see some tactical situations for sure we can improve and we have a lot of space for improvement. In different situations, tactically, physically but also the mentality."
Tottenham won the possession battle 55-45, but finished with zero shots on goal vs 2 for the opposition.
Spurs had more fouls, more yellow cards, more offsides, and few corner kicks. Tottenham are now in the No. 9 spot on the PL table, with Everton a point behind at No. 11.
Despite the recent managerial change, one thing remained the same from Nuno's last game with Tottenham to Conte's first.
The club had no shots on target in either match, almost going a month since their last shot on target.
"I think when you want to become big, when you want to try to be competitive, you must have a stable team, not ups and downs, ups and downs and today we didn't concede a goal and I think that is a good start to improve," Conte added, focusing on the side's defense.
"On Thursday we scored three goals and we had chances to improve our score but then we conceded two goals.  I think we must learn to be stable, and there is only one way to be stable, to make offensively together and defensively together and all the players have to go into this idea and today I have seen the will to sacrifice to pay attention to the details."
Conte, taking over a team that had the least running activity under Nuno, brought with him three fitness-focused trainers to increase Tottenham's individual player movement and energy.
"Today I have seen the heart of my players, the passion, the will to fight, the will to sacrifice, the will to understand that there was a moment very, very difficult for us and to see this type of reaction make me more confident for the future," Conte said.
"Sometimes you can teach to our players the tactical aspects and improve your players' physical aspects but the heart, the passion, the will, the intensity, you have or not. My players are showing me these aspects and that we are in a good position and it is a good point to start for me."
Everton will be back in action again after the international break as they get set for Manchester City (Sunday, 21 November).
Tottenham, under Conte, will look for their win league win together vs Leeds United (Sunday, 21 November).
Leave a comment