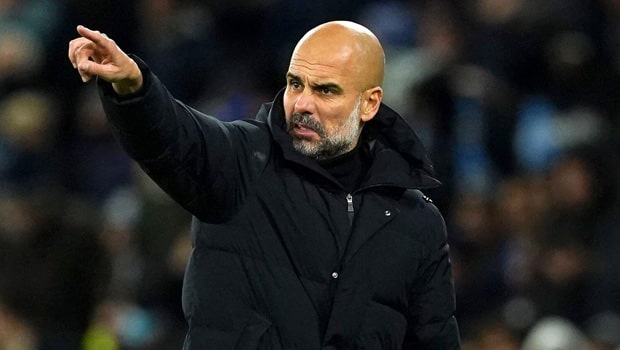 In what was one of the most anticipated matchups in recent memory, Manchester City cruised to a 2-0 win over Manchester United at Old Trafford as the visitors capitalized on mistakes to move within just two points of first place in the Premier League standings.
"They [Manchester United] are so dangerous," City manager Pep Guardiola said after the win. "That is why we had a game with a lot of control. If you let them run at Old Trafford it is a little bit like Anfield. They are built for that."
City dominated the possession battle 67-33, with five shots on target compared to just one for United. City had nine corners, United with one.
"The best way to silence Old Trafford is to have the ball, have the ball, we did it – and we played a really good game," Guardiola said.
That's now just four points from six games for United and Ole Gunnar Solskjaer.
"At the moment we are far off the top teams," Solskjaer admitted after the loss. "The demands on me and the players are going to be high and we have to get back to what we started to look like. We have the players to do that."
United started in a 3-5-2 formation, but City kept pressing down the sides to disrupt the opposition's advantage in the middle.
"We started the game off badly, of course," Solskjaer said. "Passive. And when they get the first goal, it was always going to be a difficult game anyway. [Manchester City] played well, of course. They don't give you the opportunity to win the ball off them. Some praise goes to them, but we were not at our level. The standard needs to be raised."
United are now also winless in the last four PL matches at Old Trafford.
"Obviously everyone is upset about the result, and the performance too," Bruno Fernandes said. "We know we can do much better, and we know we can do much better."
United goalkeeper David De Gea had a fantastic individual performance, but left the field upset at the overall performance.
"We have to protect David [de Gea] better," Fernandes added. "Because he is protecting us a lot and we have to help him. He cannot make, every game, eight [or] nine saves and still concede goals."
Kevin De Bruyne created more chances for City (4) than the entire United team combined.
City completed 753 passes in Saturday's win over United, the most any team has completed in a league picture match against the Red Devils since the start started being tracked (2003-04).
"Really fun. Quite enjoyable," City's Ilkay Gundogan said. "We could have scored even more goals, it could have been three, four, or five nil at half-time. It was great."
United will look to get back on track next weekend (Saturday, 20 November) vs Watford, with a UEFA Champions League match vs Villareal scheduled for just a few days after.
City match up with Everton next weekend (Sunday, 21 November) before a Champions League match vs PSG later that week (24 November).
Leave a comment