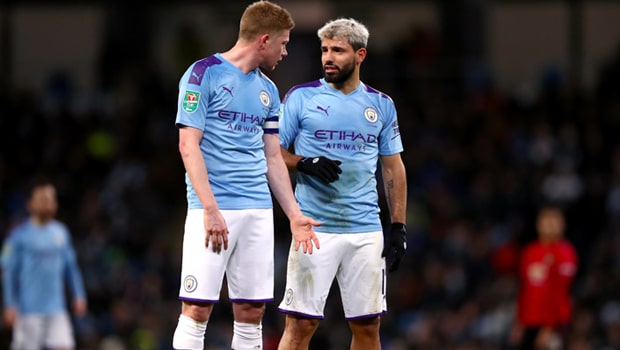 The English EFL Cup semifinal's second leg was played at Manchester City's home turf at Etihad Stadium, after City had gone to Old Trafford and taken a decisive 1-3 victory. Despite being in the middle of more or less normal fixture congestion, both sides went to the derby game with strong squads, leaving no stone unturned in order to reach the final against Aston Villa. While the starting lineups were full of regular starters for both, the applied formations were more adventurous. Tactically the approach seemed to suit Ole Gunnar Solskjaer's struggling United better than Pep Guardiola's high-flying City, as the visitors took a surprising, yet irrelevant 0-1 victory. The home crowd might have been disappointed with their team, but City still went on to the final with 3-2 aggregate and hoisting the trophy against Villa would definitely heal any wounds caused by the loss.
In the previous fixture, Manchester City completely outplayed United, who had taken a surprise 1-2 victory in their first fixture of the season. In that game City took dominance of the ball, but failed to utilize, giving United's fast counter-attacks too much space. To the second issue, which City won 1-3 at Old Trafford, Pep Guardiola's City had done their homework and allowed United no breaks, but kept the pressure throughout the game. The third issue between the teams was something of a mixed bag. City kept the possession, but couldn't break through to scoring positions. United came in with defensive mentality, as expected and created very few chances overall. But, one is sometimes enough to win a game. Nemanja Matic finished off a loose ball from a free-kick and took the visitors ahead on 36th minute.
United got a boost from the goal and came into the second half believing they had a chance, while City seemed still only half awake. The visitors chase for second goal came to an abrupt end, with Matic turning from hero to zero after receiving a second yellow card and brining his team one man down. City could not be surprised for a second time and despite somewhat lackluster effort, Pep Guardiola will have a chance to lift another EFL Cup on 1st of March against Aston Villa.
Dafabet offers
Manchester United vs Wolverhampton Wanderers (1×2): 2.26 – 3.15 – 3.30
Tottenham Hotspur vs Manchester City (1×2): 5.80 – 4.25 – 1.54
Leave a comment