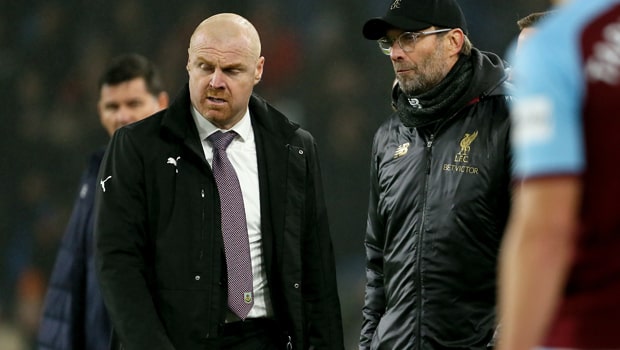 Sean Dyche has leapt to the defence of his Burnley side and insists there is still a place in modern football for 'fair and honest' challenges.
Liverpool manager Jurgen Klopp suggested his players didn't get enough protection from the officials during Wednesday's 3-1 win at Turf Moor, the Anfield boss feeling the home side had gone beyond the rules in their approach, at times.
Dyche responded by defending his players and suggesting that tackling must remain part of the game. Liverpool defender Joe Gomes is expected to be out for six weeks after a challenge from Ben Mee that the Burnley boss has no doubts over.
"There were some excellent tackles," Dyche told reporters.
"I think the only one that was questionable was [Phil] Bardsley's [on Alberto Moreno].
"I think Ben Mee's was a fantastic tackle and I imagine that a player, who seems to me an honest player, like Gomes, I think he realised that."
Dyche says he grew watching successful Liverpool teams that had a physical edge to their play when needed.
He then pondered why Klopp had not made any reference to an apparent act of simulation from one of his own players – a scourge that the Clarets boss believes to be more of a threat to the modern game.
"He didn't reference Daniel Sturridge's cheating when he never got touched and went down and got a free-kick for it," said Dyche.
"I was a Liverpool fan growing up and they had a fantastic side of skill, will, demand, and a physical edge.
"Now, if that has gone, or you can't make the tackles our lads made, and it has been replaced by cheating, I absolutely am happy to be old-fashioned.
"There is too much cheating in the Premier League, I've said it time and time again." Burnley are 2.88 at home on Saturday while Liverpool are 1.60 to win away at Bournemouth.
Leave a comment