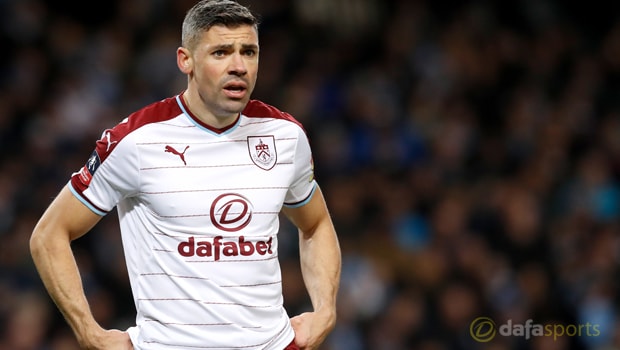 Burnley striker Jonathan Walters wants to remain part of the Republic of Ireland squad under Martin O'Neill for as long as he is needed.
Walters, 34, has endured an injury-ravaged year that has badly hampered his playing time for Burnley and Ireland.
He underwent keyhole surgery on his knee to address a cartilage problem back in January, having just returned from four months on the sidelines.
That spell out ensured that Walters was missing for Ireland's World Cup playoff heartache in Dublin as Denmark crushed hopes of a place in Russia this summer with a 5-1 win.
The veteran striker was hurt by that loss, despite only being a spectator, and says it is no way to finish his international career.
"As long as I'm needed, I'll play," he told The Keith Andrews Show.
"I met with Martin. I spoke to him and I knew he was staying on. The plan was, we were going to get to the World Cup, it was going to be great.
"I probably would have retired at the end of it. It would have been the pinnacle really, getting to a World Cup.
[Myself] and Seamus (Coleman) went to the Wales game; it was unbelievable. I've never been so nervous watching a match.
"To go to the Denmark one and get a 0-0 away, I thought, 'brilliant, bring them home'. It just didn't happen. To have such a low like that when you're not playing, I couldn't have left it like that."
Walters says he still feels like he is in 'good nick' overall and wants to push for some game time with Burnley in the closing weeks of the Premier League season.
Burnley are 3.30 to win at struggling Stoke on Saturday as they continue their push for European football next term. Stoke are 2.30 while the draw is priced at 3.20.
Leave a comment